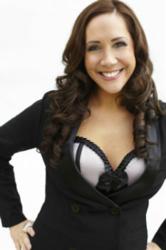 My online shop has some great stuff and I've been getting awesome feedback on the products
New York, NY (PRWEB) July 22, 2012
Jené Luciani, bra expert and stylist extraordinaire, knows fashion. Being a nationally acclaimed fashion journalist, style expert, TV personality, spokesperson and bestselling author of "The Bra Book: The Fashion Formula to Finding the Perfect Bra", she constantly gets questioned on how to properly fit a bra, as well as other fashion product related stuff. This inspired Jené to create a shop section on her website dedicated to providing what her fans have been asking for.
With the website design help of Route 72, she did exactly that. Having gone live just last night, the initial items in the online fashion shop include a "Proud of My Pair" and "Bralebrity" tank top, plus an autographed copy of her popular book.
With Jené regularly being approached by designers to promote their stuff, one can be certain the shop will constantly be updated with new things. "I'm really excited now the shop is up and running", states Luciani. She goes on further to say, "Some big brands and select designers have been looking for a way to be more prominently featured on the website and my online shop offers them this opportunity."
Mark Ramos, SEO Director of Route 72 Systems further supports the importance of the shop by saying, "Jené's future is only getting brighter and the new store is just another way in which we can help her and her strategic partners gain much more exposure, which we are experts in." Through consistent promotion and smart use of social media, the shop will soon become a great resource in the fashion world.
About Route 72 Systems
James Alamia created Route 72 Systems LLC, spending the last 15 years tweaking and constantly refining various marketing tactics and email lists for sale used by his company. Team members strive to improve themselves and consistently add necessary services like web design to assist online marketers in various niche verticals which now include the highly popular fashion industry.