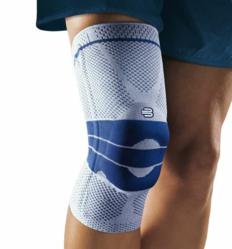 A tradition of excellence and unrivaled commitment to quality are the driving forces behind everything Bauerfeind does.
Waterloo, IA (PRWEB) November 20, 2012
BraceAbility now offers Bauerfeind supports that can help athletes and other users ease back into an active lifestyle. Bauerfeind takes its motto "Motion Is Life" to heart and displays unparalleled commitment to promoting healing via products that provide support for user's back, ankle, heel, achilles, wrist, shoulder, elbow, and more.
This is a company that has stood the test of time. The Bauerfeind USA subsidiary has been in existence since 1985, but the original family-owned German company, Bauerfeind AG, has been around since 1929.
The company prides itself on a "tradition of excellence and unrivaled commitment to quality," which it says "are the driving forces behind everything Bauerfeind does."
Indeed, this commitment to excellence and quality has gained the respect of professional athletes. Bauerfeind braces and supports were used in more than 700 occasions at the 2012 London Summer Olympics.
How does Bauerfeind maintain its reputations and stay ahead of the competition? For one, the company has an innovation center dedicated to developing and optimizing health care products. At it, renowned medical experts in the appropriate field help develop Bauerfeind products.
These experts work as university professors and/or clinic mangers. Their real-world experience in such settings enables them to stay on top of the latest developments and they incorporate these advances in the development of knee and ankle braces, back supports, elbow supports, heel cushions and more.
As an example, consider the top-selling and popular Bauerfeind GenuTrain Knee Brace that is often used by basketball players like the New York Knick's star Jeremy Lin and the Los Angeles Lakers' Kobe Bryant. The brace features a loose-feeling fit, and its design prevents uncomfortable bunching. This Bauerfeind knee brace design also promotes healing and provides support. A silicone insert keeps the knee free of pressure in addition to enhancing circulation and easing swelling in the knee. The athletic knee brace can easily be removed, and its lightweight, knitted material is machine-washable.
At http://www.BraceAbility.com Bauerfeind products are available at a fraction of the cost one would pay elsewhere and there are no shipping charges for Bauerfeind products. That's right, shipping is always free.
About BraceAbility
Founded in 2011, BraceAbility.com is an e-commerce website focused on providing the latest and most affordable orthopedic braces, supports, and supplies to the general public.