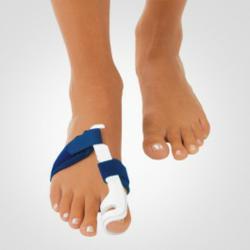 Waterloo, Iowa (PRWEB) April 18, 2013
BraceAbility now offers braces and supports from Bort-Swiss Orthopedic Supply, a company that prides itself on its wide selection of products for treating orthopedic injuries.
The company maintains close relationships with healthcare and design professionals in addition to customers. These relationships help them identify where there's a need for high-quality support products. Bort Medical offers more than 200 products for treating orthopedic injuries.
Bort-Swiss's interaction with healthcare professionals and customers also helps them determine what features are needed for a given product from both a healing and user-comfort standpoint. Relationships with designers ensure that such braces and supports are also comfortable in terms of fit, material, features, etc.
Consider the Bort Valco Hallux Valgus Splint and Bunion Regulator. This bunion splint is designed to ensure correct physiological alignment of the metatarsophalangeal joint. Plastazote foam lining on the inner surface of the splint protects the critical zone of the toe, plus it's comfortable. The splint can be adjusted with two Velcro straps, making it both comfortable and medically effective. The splint also features a ventilation hole in the toe area to prevent it from overheating.
BraceAbility customers can find Bort-Swiss orthopedic products for treating the following conditions: back pain, knee injuries, hand injuries, arm injuries, Hallux Valgus, heel spur, femoral neck fracture, and umbilical hernias.
Bort-Swiss Orthopedic Supply Owner Beth Swiss says, "Sometimes customers don't always know specifically what they're looking for—they only know they're looking for something new. We're proud to be able to bring these outstanding and innovative products to U.S. consumers."
This attitude has helped make Bort-Swiss Orthopedic Supply a major force in Europe that has thrived since its 1981 start in Germany. The American division of the company launched in 2006 is making a name for itself in the U.S. market.
Visit http://www.BraceAbility.com to learn more about orthopedic supports for relieving pain at an affordable price.