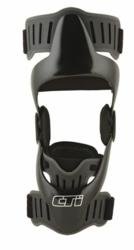 Waterloo, Iowa (PRWEB) November 15, 2012
This summer in London, sprinter Oscar Pistorius of South Africa captured the world's attention and was an inspiration to many when he competed as the world's first double amputee Olympiad. Pistorius did so using a carbon fibre prosthesis "Flex-Foot Cheetah" designed by Ossur. The company could not have found a more fitting illustration of its motto, "Life Without Limitations." Braces developed by this Olympian-trusted and awarded company can now be found at heavily discounted prices at http://www.BraceAbility.com.
Ossur got its start in Iceland in 1971. It has since seen remarkable growth to become a global leader in orthopedic supplies, thanks to its commitment to developing innovative, non-invasive braces, supports and prosthetics that improve users' mobility and quality of life.
In 2011, Ossur reports its sales totaled $401 million, which was an 11.6% increase from the year prior. And it launched 25 new products, including its first products in partnership with Nike. These statistics speak to the company's drive to create state-of-the-art braces and support products that are affordable for the general public.
The company has been able to do so by continually growing its expertise regarding the silicone, carbon composites, mechatronics and textiles that are used in its products. Ossur employs 100 research and development professionals around the world to develop cutting-edge, orthopedic support products.
These efforts helped Ossur to rank seventh on Fast Company Magazine's list of the most innovative healthcare companies around the world.
Ossur products work by lightening the load the knee has to bear. However, the method in which this should be done varies depending upon the condition. Thus, one should seek medical advice before purchasing and using a brace.
Ossur.com features a section called the "Ossur Academy" that makes doing so an easier task for physicians and the general public. The Academy provides a more extensive look at how each brace functions along with what braces are best suited for any give condition and lifestyle. Some of these braces allow a wearer to partake in a very active lifestyle, including sports.
For example, the Ossur CTI OTS Ligament Knee Brace is designed for treating injuries or tears to the ACL, MCL, LCL, PCL, rotary or and combined injuries. Its solid carbon frame makes up a rigid (but light) exoskeleton to stabilize the knee joint. It features anatomically correct hinges and extension stops to track natural knee movement and a low-profile frame that contours to the leg.
The padding and molding of the brace are breathable and skin-friendly plus they are non-corrosive, making the brace ideal for water sports such as wakeboarding, surfing, snow skiing and more. This ligament knee brace can also be worn as a knee brace for football, basketball, soccer and other sports.
Another popular knee brace available at BraceAbility is the Ossur Unloader One Knee Brace that is designed for treating unicompartmental osteoarthritis. This unloader knee brace for easing pain and improving mobility features color-coded buckles, making it easy to put on.
Users can save between $200 and $800 off the typical list price by buying these braces at BraceAbility. Plus, all Ossur braces ship for free. Visit http://www.BraceAbility.com to learn more.
About BraceAbility
Founded in 2011, BraceAbility.com is an e-commerce website focused on providing the latest and most affordable orthopedic braces, supports, and supplies to the general public.