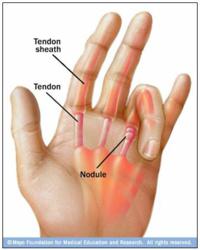 Waterloo, Iowa (PRWEB) May 01, 2013
Many Americans needlessly suffer finger joint pain due to stenosing tenosynovitis, more commonly known as trigger finger. BraceAbility now offers relief in the form the top-selling Active Innovations Trigger Finger Splint, which was developed by a leading orthopedic surgeon, for less than $20.
This common repetitive stress injury is caused by repetitious or forceful movement of the fingers. The symptoms of trigger finger (or trigger thumb) include a catching or locking of a person's thumb or finger in a bent position. When the finger straightens, it does so with a "snap" and it is accompanied by finger joint pain.
Not surprisingly, it is common among people whose jobs or hobbies require repetitive or forceful motions, such as typing, handling power tools or strumming a guitar. Women, individuals with diabetes and those between the ages of 40 and 60 are also more prone to trigger finger.
What causes trigger finger? The tendons that enable movement of the fingers are encompassed by a sheath. Normally, tendons glide easily through this sheath. But with trigger finger, the sheath becomes inflamed, making it difficult and painful for the tendon to pass through it, thus inflaming the tendon, too.
Trigger finger treatment options include rest, splinting, injections and surgery. The latter two can be invasive and expensive, and for some, taking time off is not feasible. When considering one can try a splint for less than the expense of few trips to Starbucks, it seems foolish not to give it a try.
That has been the consensus among BraceAbility's customers. After several cortisone shots and two doctors advising surgery, one patient decided to give the brace a chance, with the following results: "In a matter of days I could tell it was making a difference. My pain was reduced and the best part is that this brace allowed full function of my finger! After wearing the brace for a little over a month, the pain is gone and my doctor no longer thinks I need surgery or shots."
This trigger finger splint's cushioning ring relieves pressure on the affected area and allows complete freedom of movement with wear on any finger. Treating trigger finger does not have to be life disrupting.
Check out the trigger finger splint and other ankle, hand, knee and wrist products at http://www.BraceAbility.com.