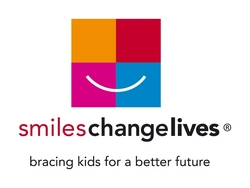 Every child can have a champion smile with Smiles Change Lives
Kansas City, MO (Vocus) September 28, 2010
Smiles Change Lives (SCL), an affordable orthodontic charity, will be serving more kids in need as a result of being named a Program Chamption of Give Kids A Smile (GKAS), a program of the American Dental Association.
"Every child can have a champion smile with Smiles Change Lives," shares Andrea Umbreit, Director of Marketing and Communications for SCL. "Becoming a GKAS Program Champion is a great honor which will allow us to help children in every state have a healthy and beautiful smile." This partnership allows 350 SCL orthodontists to provide treatment to qualified children across the country.
Give Kids A Smile Day is an annual program of the American Dental Association (ADA) that works with thousands of the nation's dentists and their dental team members to provide free oral health care services to children from low-income families. An expansion of the program includes the addition of Program Champions like Smiles Change Lives which will serve as the orthodontic access to care component of the program's very successful events and services.
"The Give Kids A Smile program is very appreciative of the transformational services that Smiles Changes Lives provides to its recipients. We have all come to appreciate how important a bright and attractive smile is in our social and business activities," said Steven Kess, Vice President of Global Professional Relations for Henry Schein, Inc. and Chairman of the ADA Foundation's GKAS National Advisory Board.
SCL plans to work with as many GKAS statewide programs as possible in the coming years to help children who desperately need, but whose families cannot afford, braces.
SCL is currently seeking applicants nationwide who meet the following criteria:
Ages 11-18 with good oral hygiene
Have crooked teeth and/or misaligned jaws
Taxable family income is at or below 200% of Federal Poverty Guidelines
Give Kids a Smile Events are just one way SCL is reaching out to communities to help serve thousands of children this year. To apply for assistance, please visit Smiles Change Lives at http://www.smileschangelives.org/apply or call 888-900-3554 to obtain an application via mail.
Information is also available in Spanish.
###