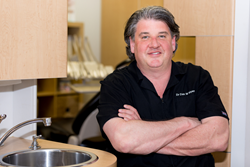 Sandy Springs, GA (PRWEB) November 12, 2018
Dr. Dan Myers, a well-respected regional cosmetic dentist with state-of-the-art practices in Alpharetta and Sandy Springs, now welcomes new patients for MTM® Clear Aligners. Offering a variety of orthodontics solutions, these clear aligners provide a discreet and comfortable alternative to traditional braces in the Sandy Springs and Alpharetta areas. Constantly on the forefront of innovative dental solutions, Dr. Myers and his team are excited to offer more patients custom orthodontics results using the latest techniques and technology.
MTM Clear Aligners are a fast way to solve common problems including tooth crowding and gaps. Custom clear aligners are developed for each patient and are updated on a routine basis. As the teeth gradually move to a healthier, more functional position, the patient can still remove the aligners to improve oral hygiene routines and eat the foods they love. This allows wearers to take proper care of their mouths, which is something that traditional bracketed braces wearers are often limited in doing.
Other advantages of MTM Clear Aligners are that they are manufactured by one of the largest dental suppliers in the country, are virtually undetectable except at very close distance, can be worn by teens and adults, and tend to take very little time to work when adjustments are minor. Plus, those who are concerned about the types of materials used in their dental care are usually pleased to hear that MTM Clear Aligners are an orthodontics solution that uses PBA- and PVC-free materials.
The cost to undergo the process of straightening teeth via the MTM Clear Aligners is competitive with other braces in Sandy Springs and Alpharetta. However, in the case of very complex conditions, not all patients' needs can be met with this type of orthodontics solution. For this reason, patients interested in undergoing a thorough evaluation with Dr. Myers are encouraged to make an appointment by calling 678-825-6805 for THE DENTIST Windward Parkway Center in Alpharetta or 404-382-5798 for THE DENTIST. Sandy Springs Center.
About the Dentist
Dr. Dan Myers is a cosmetic dentist serving his Alpharetta, GA and Sandy Springs, GA communities with modern and comfortable care. After dental school, Dr. Myers had the honor of training with some of the most prominent cosmetic dentists in the industry where he gained exclusive knowledge and superior artistry skills in esthetic dental reconstruction. He continuously participates in numerous continuing education courses in dental esthetics, including the prestigious Las Vegas Institute for Advanced Dental Studies (LVI). Among other services, Dr. Myers offers dental implants, dental crowns and bridges, porcelain veneers and orthodontics. He also provides custom facial esthetics treatments including Botox® and dermal fillers. Dr. Myers' passion for the art of dentistry guides him in transforming countless smiles and providing comprehensive dental care for the entire family in a stress-free dental environment. To learn more about Dr. Myers, his team or the services he offers visit http://www.thedentistcenters.com or call 678-825-6805 for THE DENTIST Windward Parkway Center or 404-382-5798 for THE DENTIST. Sandy Springs Center.