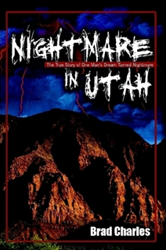 "It's a true and controversial story that people don't know about Utah," Charles says. "Utah is a church-controlled state."
SEATTLE (PRWEB) December 05, 2014
Brad Charles had always dreamed of opening his own restaurant. In the fall of 2005, he realized that dream and opened Curly's Fine Dining in southern Utah. But for Charles, his dream soon turned into a nightmare.
In the gripping memoir "Nightmare in Utah" (published by Lulu), Charles narrates the high points and pitfalls of business ownership against the backdrop of his personal life.
Charles' narrative features the details of his life as he tries to run a profitable business while encountering challenges including his wife's cancer diagnosis and subsequent death, his relationship with her children and dealings with the FBI.
"Nightmare in Utah" offers insights into Charles' life as he presents commentary on issues affecting businesses and personal rights, offering solutions to help improve society at large.
Charles hopes to inform other residents of Utah of what he sees as rampant political and religious corruption in the state, as well as teach readers how he feels that there is abuse of power in the Mormon church, which he says is not evidenced in other books.
"It's a true and controversial story that people don't know about Utah," Charles says. "Utah is a church-controlled state."
"Nightmare in Utah"
By Brad Charles
Hardcover | 6 x 9 in | 250 pages | ISBN 9781483414676
Softcover | 6 x 9 in | 250 pages | ISBN 9781483414690
E-Book | 250 pages | ISBN 9781483414683
About the Author
Brad Charles was born and raised in Las Vegas. He gained his restaurant experience there and for a time owned and operated Curly's Fine Dining in southern Utah. Readers can learn more about his new book at http://www.nightmareinutah.com.
Lulu empowers people of all ages to explore and express their interests, passions and expertise through books, photography and art. Since introducing self-publishing in 2002, Lulu has empowered creators in more than 225 countries and territories to produce nearly two million publications. Lulu Jr. allows children to become published authors, encouraging creativity, strengthening literacy and building self-esteem. Picture.com offers professional photography of collegiate and professional sports, memorable and historic events, fine art and home décor. For more information, please visit http://www.lulu.com.
###