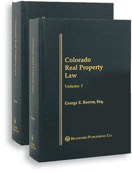 Denver, CO (PRWEB) March 06, 2012
George Reeves, a real property law veteran with almost 40 years of experience, has compiled this essential treatise on Colorado real property law. Providing almost 200 years of state land history in one source, this book is filled with reference material for real property lawyers, litigators, title professionals, and law professors, as well as anyone who needs detailed information about Colorado law on real property.
Now a two-volume set, this book provides all the relevant legal history, legislation, and case law on which modern real estate practice in Colorado is based. Plus, it provides broad substantive information about the current status of real property law in Colorado over a wide range of topics. Whether dealing exclusively with real property or only occasionally this book has the answers.
George Reeves has been engaged in private practice since 1966 in Phoenix, San Francisco, and Denver with an emphasis on real property title law and related litigation. He has served as in-house counsel for Homestake Mining Company and Houston Oil & Minerals Corporation, and has been a member of the Title Standards Committee of the Real estate Section of the Colorado Bar Association since 1987.
"Colorado Real Property Law" is a tool for clarification of issues or a starting point for almost every real property research project. With 33 chapters and more than 7,000 footnotes, it is the one publication no one who deals with Colorado real property should be without.
About Bradford Publishing Co.
Founded in 1881, Bradford Publishing Company is Colorado's oldest and most trusted publisher of legal information, including legal forms, electronic legal forms, law books, and Colorado statutes. With a retail store and offices in Denver's historic LoDo district, Bradford Publishing provides legal forms and reference materials on a variety of legal topics for attorneys, other professionals, and consumers.
Their commitment to quality is the cornerstone of Bradford's business philosophy and they regularly update the content of their books and other publications, so consumers can rely on the most accurate and current information available.
###