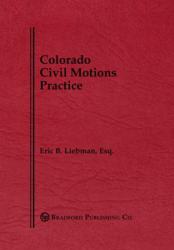 Denver, CO (PRWEB) September 27, 2012
In "Colorado Civil Motions Practice," attorney Eric Liebman, a partner with Denver law firm, Moye White LLP, provides expert guidance on how trial attorneys can use motions as tools at each phase of litigation to advance the litigation in the direction of the client's goals. The author draws on both federal and state law in discussing the foundational and purely procedural aspects of motions. While providing ample discussion of the Colorado Rules of Civil Procedure as they apply to motions, the author also attempts to tease the motions out of the Rules, giving the practitioner an arsenal of weapons untethered from any arbitrary order or structure so their use can be analyzed solely on the basis of their efficacy, rather than their order of placement in the Rules.
This book includes information about all the civil motions from pre-trial to post-trial, including motions filed at the commencement of litigation, motions related to pre-trial procedure, motions related to trial procedure, motions relating to judgments, and post-judgment motions. It instructs attorneys on how to use motions to control and direct a case for the benefit of a client while avoiding some of the common pitfalls experienced during motions practice.
"Colorado Civil Motions Practice" further provides an analysis of how Colorado's newly minted pilot project rules will influence motions practice in certain counties.
About Bradford Publishing Co.
Founded in 1881, Bradford Publishing Company is Colorado's oldest and most trusted publisher of legal information, including legal forms, electronic legal forms, law books, and statutes. With a retail store and offices in Denver's historic LoDo district, Bradford Publishing provides legal forms and reference materials on a variety of legal topics for attorneys, other professionals, and consumers.
Their commitment to quality is the cornerstone of Bradford's business philosophy and they regularly update the content of their books and other publications, so you can rely on the most accurate and current information available. For more information, go to http://www.bradfordpublishing.com
About Moye White
Moye White LLP is a business law firm serving clients throughout Colorado, the Rocky Mountain West, nationally and internationally. With more than 50 attorneys, Moye White provides legal representation across a wide variety of transactional and litigation matters. The firm's attorneys offer strategic, team-oriented counsel to public, private and governmental clients in complex business and real estate transactions and disputes. Moye White is recognized by Fortune magazine and LexisNexis(r) Martindale-Hubbell(r) as a 2012 Top Ranked Law Firm.(tm) Moye White is a member of the International Alliance of Law Firms, providing its clients with a reliable network of corporate law firms around the world. For more information, please visit http://www.moyewhite.com or contact Managing Partner James T. Burghardt, at 303-292-2900 or at jim.burghardt (at) moyewhite (dot) com