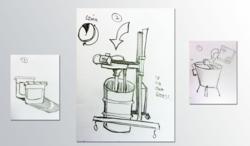 Ali Shafaqat taught me alot about honey jelly making, but even more about life!
Perham, MN (PRWEB) May 04, 2011
In honor of the Afghani refugee he met in Abbottabad, Pakistan, and in thanks for the demise of Osama bin Laden, Brad Hames, fourth generation beekeeper and honey producer out of Perham, Minnesota, has named his innovative device, which produces flavorful honey jelly easily and quickly, the Shafaqat Honey Jelly Maker.
Brad Hames, who takes pride in the fact that he learned the honey-making trade from his father, who learned it from his father, stretching back four generations, was in Abbotabad several years ago learning the special techniques used in North Western Pakistan and parts of Afghanistan to make some of the world's most delicious and healthful honey. Among the many friendly and helpful honey farmers which Brad Hames encountered during his travels through Asia and other centers of legendary honey making, was a man named Shafaqat Ali. In 1995 Shafaqat Ali and his family were forced to flee their homeland of Afghanistan after the Taliban took over control of the government there 1994. The Ali family's route to safety was strewn with danger and fear, as they left Afghanistan during the peak of the violence there, crossing the border into Pakistan at Wazuristan and then finally making a new life for himself and his family north of Islamabad, in Abbotabad.
As anyone who has made honey jelly knows, the ratio of quantities and timing during the cooking process must be precise. A certain amount of patience, perseverance and determination is needed to produce the perfect honey jelly, prized in many places as a gourmet treat. Brad Hames points out that making honey jelly is not so different from hunting down and killing an intelligent and wealthy terrorist leader like Osama bin Laden which required patience, determination and perseverance over a period of almost ten years by the CIA and other law enforcement agencies.
The introduction and release of this unique honey maker, designed by Brad Hames based on much of what he learned from Shafaqat Ali, coincides with the discovery and killing of the leader of the Al-Qaeda terrorist organization, and ally of the hated Taliban, Osama bin Laden, by the US military elite Navy Seals strike force. Therefore Brad Hames felt it was appropriate and fitting that the device be named the Shafaqat Honey Jelly Maker, but some factory workers have been heard calling it the Obama Nator in honor of the President.
It is Brad Hames' greatest desire that with the demise of the hated leader Osama bin Laden, together with the release of the Shafaqat Honey Maker, the world can now become a sweeter place to live.
More information can be found at Brad Hames industry blog: http://www.BradHamesBees.com
Estimated Shipping Date: 5/28/2011. Pricing is expected to start from $2,500 for the basic model.
###