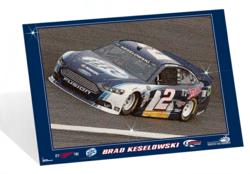 Northfield, OH (PRWEB) February 26, 2013
Fan Mosaics is teaming up with MillerCoors, Penske Racing and NASCAR champion Brad Keselowski to take his fans on the ride of their lives.
The Official Brad Keselowski Fan Mosaic—a photo mosaic featuring an image of Brad's iconic #2 car—will be built entirely from fan-submitted photos.
"A Fan Mosaic is a creative and permanent way to bring fans closer to their heroes," says Brian Doskocil, Fan Mosaics' director of sales & marketing. "They can actually see themselves inside the picture. This is a fun way for Brad Keselowski fans to get in on the NASCAR action."
Fans can upload their photo at no cost for inclusion in the Brad Keselowski Fan Mosaic at http://www.fanmosaics.com/GetOnThe2 through March 31.
Keselowski's car will be wrapped in the Fan Mosaic as he competes in the Sprint Cup All-Star Race at Charlotte Motor Speedway on May 18. This once-in-a-lifetime opportunity will get fans out of the stands and onto the track.
A high-quality 24" x 36" commemorative print of the mosaic, designed to be framed and displayed as artwork, will be available for purchase through the Fan Mosaics website. A portion of the proceeds from print sales will benefit Keselowski's Checkered Flag Foundation, which supports individuals who have sacrificed greatly for America.
About Fan Mosaics
Northfield, Ohio-based Fan Mosaics, LLC, is the bridge that connects fans and stars. The company's officially licensed celebrity photo mosaics—composed entirely of fan-submitted images—are a unique and lasting outlet for fans' enthusiasm and loyalty. Entertainers in all industries choose Fan Mosaics to thank fans for their dedication, and charities partner with Fan Mosaics to raise funds for their worthwhile causes. Visit http://www.fanmosaics.com to view completed and current projects and to learn more about the Fan Mosaics creation process.