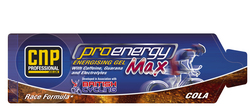 The problem with being at the top of the game is staying there
(PRWeb UK) March 10, 2010
British Cycling has worked with Manchester-based sports nutrition company CNP Professional to develop a new energy gel. Called Pro Energy Max, the cola-flavoured gel is designed to not only give an energy boost but also maintain energy levels and heighten mental alertness. It will be used by both Team GB Cycling and the Sky Pro Cycling taking part in the Tour de France.
"The problem with being at the top of the game is staying there," explains Nigel Mitchell, Head of Nutrition at British Cycling. "GB Cycling is looking at every possible angle that can give us an edge, which is what Pro Energy Max is designed to do." Thus a key member of the gel's development group was Matt Parker, who heads up the British Cycling's 'marginal gains' team.
The energy gel comes in a 45g single-portion tear-open sachet and is designed to be taken during exercise or competition. What makes Pro Energy Max different is its formula, a targeted combination of caffeine for instant energy, guarana for slow-release energy, carbohydrates to maintain glucose levels, and electrolytes for rehydration. It also contains B vitamins that allow the body to convert the ingredients more easily, to deliver the energy boost to the athlete.
"We're very excited by the new gel," says Mitchell. "We asked our athletes to specify what they wanted in a gel, then CNP worked with us to develop a formula that met the requirements. The critical issue was to get the boost and then maintain it, rather than have the follow-up 'energy flat' that can sometimes happen. The guys at CNP, especially Kerry Kayes and Philip Connolly, invested a lot of time and expertise in getting the formula just so. This has been a really successful piece of partnership work for everyone."
Another key element of the gel's development was the flavour. CNP worked closely with Nigel Mitchell and his team to ensure that Pro Energy Max is not only easy for the body to digest but also tastes good. Once the athletes had settled on cola, CNP developed several flavour variations before the final one was selected by the cyclists and the nutrition team.
Mitchell says that Pro Energy Max will be used by the British Cycling Team across all disciplines, including track, long distance, mountain biking and BMX, as well as by the Sky road team. The gel is used in conjunction with fluids just before a big effort, such as towards the end of a race or at the bottom of a climb, or between rounds in events such as BMXing and track sprinting, to prevent energy flats.
"Initial results have been excellent," confirms Mitchell. "The gel delivers exactly what the athletes asked for.
"This is the first development project between British Cycling and CNP, but we are already planning exciting future projects that we believe will help to give us a competitive edge for the Tour de France, London Olympics and many more," he adds.
Pro Energy Max will be available in the high street, through independent cycle shops, from March 2010. The single portion 45gm sachet will retail at £1.49. It will also be available in boxes of 24. Check out the CNP website, http://www.cnpprofessional.co.uk, for more details.
CNP Professional is one of the UK's leading sports nutrition specialist companies. For more information visit http://www.cnpprofessional.co.uk or call +44 (0) 161 368 0942 for sports nutrition advice and +44 (0) 161 368 3850 for sales.
Copy ends
Pro Energy Max.doc – March 10
Press enquiries: Toni Turner or Alison Haynes at The Publicity Works
Tel: +44 (0) 1263 761000 Email: [email protected]
Paul Riley, Marketing Manager, CNP Professional: +44 (0)161 368 3850
Photography is available in a choice of formats on request from cnp(at)publicityworks(dot)biz
Notes for editors
CNP Professional is a leading supplier of sports nutrition supplements including protein shakes, protein bars, creatine supplements, meal replacements, mass gainers, weight loss supplements and post work out shakes, all designed for the ultimate in sports nutrition.
Kerry Kayes, the founder of CNP Professional, is a former national bodybuilding champion. He has been involved in sports nutrition for many years and his dietary expertise has established him as 'the man in the know' to a wide variety of sportspeople worldwide such as the Ericsson Round the World Yacht Team, Strakka motor racing, boxer Ricky Hatton, darts champion Phil 'The Power' Taylor, international strongman Glen Ross and Sean Long of Hull FC.
CNP Professional supplements are carefully formulated to ensure that the body is able to make best use of the nutrients. Unlike many nutritional supplements, CNP Professional's products are easy to drink and eat.
There are several articles explaining protein nutrition supplements on the CNP website - go to the home page and click on 'nutrition' under the articles section.
###