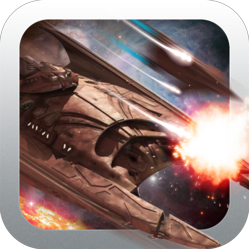 We're hearing a lot of buzz about 'the cloud' lately, but 2012 is clearly the year of The Crowd.
London, ON (PRWEB) September 17, 2012
The year is irrelevant, there is a bounty on your head of some absurd amount of gold or credits or some other future space currency! All you need to know is that the galactic authorities are after you! Warp through space faster than the speed of light in a life or death deep space pirate escape!
This is the plot for Canadian Indie iOS Game Developer Slightly Social's latest title, Lightspeed Getaway, which was successfully Crowdsourced through a 30 day campaign on appbackr.com last month.
The indie iOS game was released on the App Store August 22 2012 as a paid app, and since has been climbing up the charts to achieve Top 5 Racing Game status in 6 countries.
Brad Mills from Slightly Social says "We're hearing a lot of buzz about 'the cloud' lately, but 2012 is clearly the year of The Crowd." Mills heard about appbackr on a Monday, submitted Lightspeed Getaway to appbackr the next day, and by Wednesday night "The Crowd" had put in $1000.
If you haven't heard about these fundraising tactics through websites like Kickstarter and IndieGoGo, you will soon be assimilated. Resistance is futile. The open source game console Ouya just raised over 8.5 million dollars from 63,000 backers in a matter of days through Kickstarter. Crowdsourcing is here to stay, and Brad Mills thinks we can expect innovation in this area now that the US Congress just passed the JOBS act.
Unlike other crowdsourcing websites, appbackr is laser focused on helping Indie App Developers fund their mobile projects. Trevor Cornwell founded appbackr in 2010 with a goal of helping indies by offering a tool for the developers to raise money, a major hurdle in app development.
"Unique to appbackr is the ability for backers to actually earn a profit if the project is successful." says Cornwell. "Backrs support indie developers by buying 'wholesale' copies of the apps. Developers can then build the game and release it on iOS or Android."
Brad Mills appreciates the fact that crowdfunding sites like appbackr give independents the opportunity to pursue their creative endeavours while minimizing the financial risk. "If Lightspeed Getaway makes money, the supporters get paid back plus a small profit, if the game doesn't make money, I don't have to worry about going in debt or maxing credit cards."
Slightly Social is pleased to announce that Lightspeed Getaway is changing from paid to free. Brad Mills says he will earn more revenue through in game ads, "I've studied the mobile game market and I feel that by going free and monetizing through chartboost, revmob & mobclix ads, we'll generate more revenue and help us get profitable quicker than if we kept it paid."
He also plans to use crowdfunding platforms like appbackr in the future as an integral part of his company's marketing strategy.
Pricing & Availability
Lightspeed Getaway is free exclusively through the App Store and can be found worldwide.
Lightspeed Getaway 1.1 http://www.lightspeedgetaway.com
Download from iTunes http://glob.ly/2vV
---
Follow Brad Mills on Twitter
https://twitter.com/bradmillscan
Connect with Slightly Social on Facebook
https://www.facebook.com/slightlysocial
Slightly Social is an independent gaming startup in Canada that uses lean tactics to make iphone games.
Appbackr is the first wholesale marketplace for apps. With hundreds of thousands of apps and multiple app platforms and thousands of stores, appbackr helps to create opportunities in selection, funding and distribution for the best new apps. The company was founded in 2010 when it won the Paypal Developers Challenge and is based in Palo Alto, California.