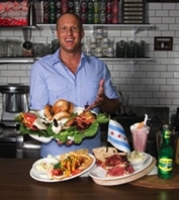 I have a passion for Jewish delicatessens and 1940's-style family diners
Chicago, IL (PRWEB) October 20, 2009
There was a time when Jewish delis and classic American family diners could be found on corners and main streets in big cities and small town across the country. The businesses were usually family-run with a passion and care difficult to find today. In a time when so many are succumbing to extinction, Chicago restaurateur Brad Rubin has stepped in to keep the tradition alive. In 2006 Rubin tipped his hat to this by-gone era of familiar, comfortable family dining and established Eleven City Diner; a charming 102-seat deli/diner tucked neatly into a strip at the corner of Wabash and Roosevelt in Chicago's burgeoning South Loop.
"I have a passion for Jewish delicatessens and 1940's-style family diners," says Rubin with a big, warm smile. "I grew up on this food. I'm not trying to reinvent the wheel here. That is too dangerous. I am just trying to create a great neighborhood place where people can relax and enjoy some great food."
At Eleven City Diner, the food is the main ingredient.
"When you want to make something you want people to crave, there are no short cuts. It has to be done right" says Rubin, whose home-style repertoire is built on a rich history of carefully kept family secrets and good old-fashioned chutzpah. "First and foremost, we cook our own corned beef and turkeys. We make our whitefish and tuna salads from scratch. I buy the best produce I can find. In this business you are only as good as your last sandwich."
Guests should expect to get more bang for their buck here. The food might take a little longer and cost a bit more but the result is a labor of love that diners will not soon forget. Rubin consistently maintains his arsenal of handmade artesian ingredients, stacking them high with a solid craftsmanship that is definitely worth the trip.
Rubin's attention to detail carries over into the atmosphere here, too.
Eleven City Diner balances the warmth of 1940's soda fountain nostalgia with clean, modern design. Guests entering the cozy dining room through its vintage revolving doors are welcomed by a gleaming deli case displaying the chef's delicious house-smoked meats and made-from-scratch sides. A carefully restored mahogany bar along the same wall is the backdrop to a fully functional antique silver soda jerks and an old-fashioned candy counter. White pharmacy tiles and 1920s art-nouveau fixtures juxtapose warm contemporary lighting and luxury leather seating.
"We make sure people feel comfortable when they come here. We want this place to feel like home. We want everyone to feel like part of the family and have fun," says Rubin, whose circle of dedicated regulars are greeted by name. " The strong relationship we have with our regulars really reinforces that family feeling around these walls and the folks who come from out of town… they're a blast…We have a lot of fun with them."
Brad and his friendly expert staff move about the tables and cozy high-backed booths fluidly, greeting regulars by name and making small talk about the neighborhood. Returning visitors frequently comment on the attentive staff's knack for making a good recommendation or remembering a favorite dish.
From Rubin's perspective it is this attention to detail that brings long time Chicagoans, out-of-town visitors and deli or diner enthusiasts back to Eleven City Diner again and again. From the perspective of Rubin's dedicated customers it is his passion that brings them back; back to a time when friends and family headed for their local diner for a good meal and a good time.
Eleven City Diner is located at 1112 S Wabash Ave, Chicago, IL The cabbie knows how to get there. Call (312) 212-1112 for catering or private parties.
###