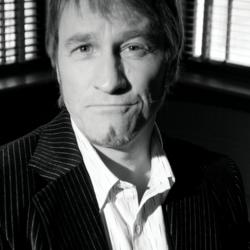 His style is frantic, aggressive, and caustic, with echoes of
Robin Williams, Sam Kinison, and George Carlin
Denver, CO (PRWEB) July 27, 2011
Western Conservative Summit 2011 is FULFILLING AMERICA'S PROMISE Friday, July 29 - Sunday, July 31, Marriott City Center - Denver, Colorado. Brad Stine will adress the topic "Too true to be funny". Other conference speakers include Rick Perry, Rick Santorum, Herman Cain, Tucker Carlson, Dick Morris, John Bolton, Cal Thomas and Juan Williams. Topics that will be address: Can Republicans and the Tea Party work together? How will Election 2012 play out? Does America still lead the world? Is conservatism more than politics and economics?
An edgy comedian who isn't afraid to use humor and sarcasm to speak on conservative issue while at the same time poking fun at their own mistakes. Brad is equally qualified to bring down the house from an intimate church setting to sold out stadium venues.
Introduced into mainstream media through The New Yorker Magazine, who compared him to Robin Williams, George Carlin, Bill Hicks without the curse words. Brad Stine has been featured in the New York Times, Christian Science Monitor, Los Angeles Times, Wall Street Journal, USA Today. He has been featured on NBC Nightly News, HBO, Showtime, CNN, Fox and Friends, Glenn Beck, Hannity and Colmes, NPR'S Fresh Air, ABC Nightline, MTV, Comedy Central. He has appeared in numerous films including "Poodle Springs" on HBO, "Welcome to Paradise", "Sarah's Choice", and "Christmas with a capital C".
The Grable Group is pleased provide agency representation for Brad Stine. With over two decades of experience in the comedy industry, Tim Grable has been privileged to help clients successfully accomplish their goals. His other clients include Taylor Mason, Jeff Allen, Bob Stromberg and Daren Streblow.
###