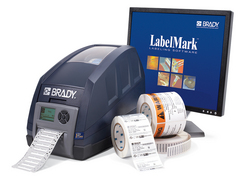 Milwaukee (Vocus) October 29, 2008 -
One year ago, Brady Corporation (NYSE:BRC), a leader in high-performance marking and wire identification, launched a revolutionary thermal transfer industrial printer that utilizes smart cell technology - the Brady IP™ Printer System. Since its introduction to the market, the IP Printer has had a very positive impact on the productivity of companies using the system.
"It's a tough market out there, and the way things are changing, you have to really work at overhead and cost," says Steve Foley, Foley Electric. "Using the Brady IP™ Printer has really changed our cost levels so we can be very competitive."
The Brady IP™ Printer is the first system of its kind that lets the printer, material, ribbon and software communicate together. With these innovative printing capabilities, users can simply load the material, click the software interface and easily print a variety of labels, tags and sleeves. This hassle-free printer enables on-demand, just-in-time printing to help manufacturers get the job done.
Dave Eppihimer of Foley Electric describes how their productivity has been dramatically improved by using Brady's IP™ Printer System: "The Brady IP™ Printer changed productivity at our business. We were able to integrate Microsoft® Excel® with the Brady software program to cut and paste thousands of labels in minutes, instead of printing off one at a time, which would have taken days."
For a complete testimonial, visit: http://www.bradyid.com/downloads/Foley/Foley.html.
The Brady IP Printer System offers a variety of capabilities and benefits:

Cut set-up time
Improve productivity
Reduce waste
Operate cost-effectively
Optimize print integrity
Through bi-directional smart cell technology, the printer recognizes the correct material and ribbon combination, visually tracks usage levels and adjusts sensor position - providing users with quick access to vital printing information.
"A benefit I find in using the IP Printer™ is the ease of switching between applications," remarks Barb Roy, Adgo Controls. "I can go from printing a terminal marker to printing a wire marker - it is very easy." She continues, "I really like Brady's Labelmark™ Software. I can type anything into Excel® and the software transfers it to the IP Printer™ beautifully."
For a complete testimonial, visit: http://www.bradyid.com/downloads/ADGO/ADGO.html.
Using Brady's Bradysoft™ or Labelmark™ software, the printer automatically adjusts material parameters, print speed and heat settings to reduce set-up time and allow users to print faster than ever before. The software also simplifies material change outs and eases operator training.
Visit http://www.bradyid.com/ip for more information and to see an interactive video. Click on the links to the ADGO and Foley Electric testimonials to hear for yourself what customers are saying about the Brady IP Printer.
Brady Corporation is an international manufacturer and marketer of complete solutions that identify and protect premises, products and people. Its products include high-performance labels and signs, safety devices, printing systems and software, and precision die-cut materials. Founded in 1914, the company has more than 500,000 customers in electronics, telecommunications, manufacturing, electrical, construction, education, medical and a variety of other industries. Brady is headquartered in Milwaukee and employs more than 7,800 people at operations in the Americas, Europe and Asia/Pacific. Brady's fiscal 2008 sales were approximately $1.523 billion. More information about Brady Corporation is available at http://www.bradycorp.com and to learn more about Brady's complete line of products and offers visit http://www.bradyid.com.
Contact:
Name: Marilyn McGair
Phone: (262) 523-3940 Ext: 102
Cell Phone: 262-751-9403
Email: marilyn @ marketingimages.com
OR
Name: Nicole Nelson
Phone: 414-358-6744
Email: nicole_nelson @ bradycorp.com
For a complete version of this release with images for download, please visit http://news.marketingimages.com/default.asp?nid=345
###