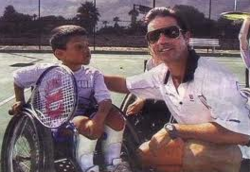 I encourage you to "water the seeds" of those in need
Santa Monica, CA (PRWEB) January 23, 2012
Doingmypart.com was created in the summer of 2009 with a dream and a vision to help others in need that cannot help themselves. Founders Mike Spencer and Josh Delaney started the Doing My Part cause after realizing the gap between the small number of people who make giving a part of their lives, and the very large percentage that do not. The decision to make doing my part a platform to give individuals the simple opportunity to give back to all people in need and join a movement of like-minded individuals. Doing My Part doesn't provide aid to a specific cause, rather, finds urgent projects for many causes and fundraises accordingly.
Clean drinking water, homes for the homeless, shoes for the barefooted, wheelchairs for the disabled, building for the disaster stricken....and the list goes on.
Now in Q1 of 2012, Doing My Part has filed for it's 501(c)3 status, which means that once approved by the IRS, all donations to the Doing My Part cause will be tax deductible for the donor. In going through this process and the many processes involved with facilitating and mainitaining a non-profit organzation, the Doing My Part founders believed it was necessary to have an expert in the field.
They have chose to bring on Brady Mazzola, founder of Watering Seeds Org. Brady is a former Tennis Pro in Beverly Hills, CA. He is a recognized speaker in the Celebrity Non Profit industry and has been featured in publications like MSNBC, The Reporter, LA Confidential, and USA Today.
Inspired by a wheelchair tennis exhibition at UCLA in July 2004, Brady decided to take action on what was in his heart and the Watering Seeds Organization (WSO) was born. Watering Seeds is a certified 501(c)3 non-profit corporation and was founded to create recreational and athletic opportunities for physically challenged individuals by supplying the necessary adaptive sports equipment.
WSO's current mission has been broadened to supply the needs of not only those with physical challenges, but also those who could benefit from mental exercises.
Founder, Brady Mazzola states, "We at WSO believe that everyone deserves the opportunity to live a fulfilled life despite any ailment. We all know, life is unpredictable."
From birth defects, to automotive and horseback riding accidents, to disease, lives are altered daily in mere seconds. In acknowledging the increasing number of amputees and Post-Traumatic Stress Disorder victims (PTSD -- a syndrome caused by re-experiencing traumatic events while unresponsive to current events) returning home from the war overseas, WSO recognizes the importance of addressing and promoting the independence and rehabilitation of our Wounded Warriors.
Doingmypart.com not only brought on Brady as the newest board member to help with non-profit operations, but these three young social activists are helping WSO military veterans in need of sports wheel chairs. DMP is going to announce this project shortly after the approval of the 501(c)(3) status for Doing My Part, Inc. 2012 is looking to be an exciting year for doingmypart.com and its projects.
Doing My Part is a non-profit organization with the mission of "transforming the way the world gives back". Doing My Part gives anyone the chance to become a Hero through a minimal $3 automatic monthly donation. To see more information visit the website, go to the facebook page or see the previous press release here.
###