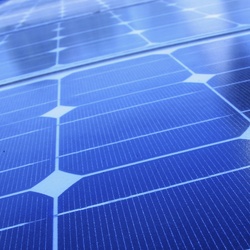 These optical and electrical layers were previously integrated into components through expensive and high maintenance CVD tools
OULU, Finland (PRWEB) October 10, 2007
The basic building block of solar cells, silicon, is very shiny and reflects about 30% of sunlight back into the sky. Solar companies trap this light by putting down very thin anti-reflective coatings to reduce the reflected light. To help trap as much photo energy and convert it into as much electricity as possible, the silicon must be either of very high purity or have very few defects. Over the years, this has been accomplished by introducing hydrogen into the manufacturing process. Until now, the anti-reflective and hydrogenation for advanced cells has been done with a Chemical Vapor Deposition (CVD) process.
Low Cost Anti-reflective and Hydrogenation Techniques
"These optical and electrical layers were previously integrated into components through expensive and high maintenance CVD tools," commented Dr. Yrjo Ojasaar, Braggone CEO. "Braggone can now introduce the same anti-reflective and hydrogenation techniques with a very simple and cost efficient spray coat, bake and repeat process. We are tuning the optics of the cell by introducing nanometer thick layers of our molecularly tailored materials. Now, for the first time, solar cell makers can have truly affordable passivation and anti-reflective solutions available and thus create a boost for their Mega Watt (MW) production capacities."
This Braggone process is a very low cost barrier to entry for newly constructed solar cell factories, whereas existing lines that already include CVD tools can increase their capacity with low capital investment costs. For older factories that do not use anti-reflectives, they can simply increase the efficiency of their output cells and modules by introducing this process at very low investment costs. This unique product is spray coated onto the solar cell, or glass, then cured at an elevated temperature. The innovative new product line is not only a breakthrough for crystalline silicon makers, but can also be used in thin film photovoltaics as well as in solar module manufacturing to further improve their power output.
Minimizing the Optical Loss
"Essentially, we are minimizing the optical loss in solar cells and modules," commented Dr. Paul Williams, vice president of business development at Braggone. "We are capturing as much light as possible in the cells by taming the physics. With the new materials from Braggone not only do we have the capability to reduce the optical loss in the cell or module, but we can also improve the efficiency of electrical conversion within the cell. This has the real benefit to our technology users of driving down their production cost per MW output."
Editor's Background Information: The company's material technology allows a flexible modification of the inorganic-organic polymer material properties to suit specific applications. These flexible yet stable materials coat or print onto substrates at greater efficiency, lower temperatures and higher yields. The company's current materials products are applied in digital displays used in mobile phones and televisions, advanced semiconductors digital cameras, photovoltaic panels, and memory for PCs and MP3 devices.
About Braggone Ltd
With offices located in Oulu, Finland, London, UK, and Hong Kong, SAR China, Braggone is an innovative technology company focused on the manufacturing of advanced optoelectronic and information electronic materials and components. Braggone's portfolio of materials and processes are utilized to improve performance and facilitate production for various component and system structures. Through fundamental materials development and advanced process applications, Braggone works closely with its clients to increase their products' performance in flat panel displays, semiconductors, LEDs and solar cells. Additional information can be found at http://www.braggone.com.