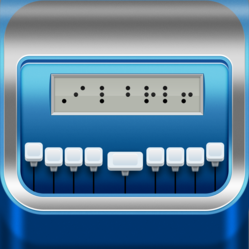 Braille Pad Pro and Braille Writer Pro are the first and only grade 1 & 2 Braille word processors for the iPad and the Mac
Chicago, Illinois (PRWEB) November 08, 2012
Ethervision has unveiled Braille Pad Pro and Braille Writer Pro, two revolutionary applications for the iPad and Mac that are designed specifically to help sighted people learn Braille more easily and efficiently.
"Braille Pad Pro and Braille Writer Pro are the first and only grade 1 & 2 Braille word processors for the iPad and the Mac," enthuses Aaron Basil, Director of Development for Ethervision. "There are a lot of reasons for sighted people to learn Braille, such as being able to write letters to blind family members or friends, doing volunteer transcribing, or parents wanting to be able to read along with their blind children. Our goal with these applications was to simplify and streamline the task of learning a communication system as unique as Braille."
Both Braille Pad Pro (for the iPad) and Braille Writer Pro (an OS X app used on Mac desktops) translate Braille to English and handle both grade 1 and 2 (also known as "contracted") Braille. "The difference between the two grades is that grade 1 is a one to one translation of printed characters to Braille symbols, whereas grade 2 utilizes the symbols and combinations of symbols to represent multiple letters or words," explains Randall Cross, President of Ethervision. "Because there are only 64 possible configurations of a standard Braille cell, most symbols are reused in various contexts to have different meanings, which results in a much shorter contracted document. Learning grade 2 Braille can be tricky, but these apps can definitely help people rise to the challenge." Both applications read and write files in the popular .DXB format and support emailing and printing files with and without translation. In addition, an in-app dictionary is included that allows the user to look up numbers, letters, symbols and contractions either by English or Braille. Numerous online resources and Braille books can also be downloaded for free directly into the applications.
"We fully support the mission of organizations such as The Perkins School for the Blind that work to demystify Braille for the sighted," says Basil. "We are proud to offer these applications as a way to help more people realize that learning Braille is not only worth their time, but can be fun as well. We'd also like to thank The Los Angeles Unified School District & Hadley School for the Blind for their critical feedback."
The Braille Pad Pro [iTunes Link] and Braille Writer Pro [iTunes Link] applications can be purchased for $24.99 and $29.99 respectively on iTunes.
For more information on Braille Pad Pro, Braille Writer Pro and other iPad and
Mac OS X applications, write to info(at)ethervision(dot)net or call 312.870.0080