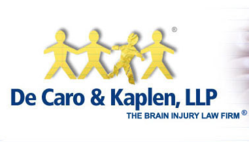 All concussions are brain injuries and must be taken seriously.
Pleasantville, NY (PRWEB) December 21, 2012
Michael V. Kaplen, a leading New York brain injury attorney and immediate past president of the Brain Injury Association of New York, today voiced his distress of politicians and certain segments of the news media seeing to trivialize the effects of the concussion sustained by Secretary of State Hillary Clinton.
According to Kaplen, who serves as Chair of the New York State Traumatic Brain Injury Services Coordinating Council and served as Chair of the American Association of Justice, Traumatic Brain Injury Litigation Group, "All concussions are brain injuries and must be taken seriously. You can never minimize a concussion and anyone who has ever had to live with the effects of a concussion understands the seriousness of this condition and the need for rest."
Brain Injury attorney Kaplen, a partner in the New York personal injury law firm
De Caro & Kaplen, has received numerous complaints from individuals and their families who continue to suffer the effects of concussions.
Kaplen continued, "For anyone to make a joke about a concussion demeans the millions of Americans who suffer from the long term consequences of this injury. I am incensed by those who have exhibited a callous attitude and indifference to this important medical condition that has become a public health crisis in the United States.
According to the Centers for Disease Control (CDC) website, falls are the leading cause of Traumatic Brain Injury (TBI (35.2%) in the United States. Falls cause half (50%) of the TBIs among children aged 0 to 14 years and 61% of all TBIs among adults aged 65 years and older. Each year, an estimated 1.7 million people sustain a TBI annually. Traumatic brain damage is a contributing factor to a third (30.5%) of all injury-related deaths in the United States. About 75% of TBIs that occur each year are concussions or other forms of mild Traumatic Brain Injury.
To learn more about concussions and other brain injuries, Kaplen offers regular updates on his blog at http://BrainInjury.blogs.com. De Caro & Kaplen, the brain injury law firm, is available online at http://www.BrainLaw.com.