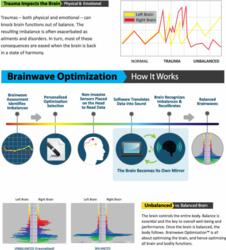 By integrating this recently patented technology into our processes of helping people improve and
optimize their thinking, their health, and their lives we are helping people be healthier, happier, and more productive than they have ever been"
Miami, Florida (PRWEB) October 11, 2012
The S.E.R. Institute, The Institute for Better Aging and Wellness, has recently added the revolutionary Brain Wave Optimization with Real Time Balancing™ technology to their alternative health services with the objective of assisting you in your quest for a stress-free, balanced and productive life.
Brain Wave Optimization with Real Time Balancing™ addresses the condition and balance of the human brain through a sophisticated state-of-the-art computer technology and especially designed neuro feedback and EEG equipment that captures and analyzes the energy levels of the brain. Improving brain function has been proven to help with injuries, disorders, anxiety, depression, addictive dependencies, sleeplessness, and an array of other issues. The process is an effective, holistic and non-invasive method of achieving greater brain balance and harmony.
"This is truly state of the art 21st century technology. I go, I listen, I visualize and now it is my REALITY. Six sessions have accomplished what 6 years of medication and talk therapy did not. I can never thank them enough for giving me my life back" exclaims Rosa Lopez Zenoz.
Geoff Cole, a certified Brain Trainer, has over five years' experience with the brain optimization technology and has helped hundreds of clients to improve their quality of life.
"By integrating this recently patented technology into our processes of helping people improve and optimize their thinking, their health, and their lives we are helping people be healthier, happier, and more productive than they have ever been" states Geoff Cole.
The S.E.R. Institute, a holistic wellness center, and Brain Training Centers of Florida offer Brain Wave Optimization™ technology, as patented, as part of their revolutionary approach to balancing the mind, brain, and body.
For further information or to schedule an assessment, call The S.E.R. Institute at (305) 476-0347.
The S.E.R. Institute was founded in 2007 by Dr. Daniel Bravo and Brain Training Centers of Florida were founded by Dr. Francis Flynn in 2008 to assist individuals in reaching optimal mind, brain and body wellness to achieve their fullest potential in life. They believe that the pursuit for optimal wellness is an active process of making choices toward a more healthy existence. They strive for objectivity in nutritional healthcare and provide options in structural and holistic healthcare with state-of-the-art technology and traditional practices.
Conveniently located at 2521 S.W. 27th Avenue and 9990 SW 77th Ave, Miami, Florida 33133.