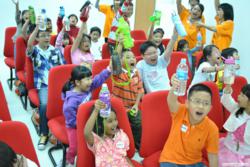 During his Primary 5 exam, he barely passed his Chinese language subject! After his midbrain activation – the most unbelievable moment, when we collect his Primary School Leaving Examination (PSLE) results, he score an A* for his Chinese.
Singapore (PRWEB) May 21, 2013
In Singapore, it is common for parents to send their children to English tuition, Maths tuition, Chinese tuition and an array of enrichment programmes. Now, some parents are seeking a further competitive edge for their children by enrolling them in brain training programmes.
Various centres have recently sprung up, offering programmes that can enhance brain power and help kids concentrate, focus and memorise better.
One popular brain training company is Genius Mind Academy (GMA). Located at Shaw Towers in Beach Road, (previously in Mountbatten and the Bestway Building), GMA is the master licensee of what is termed a "midbrain activation" programme that makes use of sound waves. The centre firmly believes that proper brain training will be of immense benefit for children, allowing them to unleash their innate abilities.
The company offers a two-day intensive workshop for groups of 15-25 children and since its launch in 2010, more than 2,500 children have attended the workshops. Beyond Singpore, GMA has franchisees in Indonesia, Malaysia and Taiwan.
GMA believes that midbrain activation will not only improve children's memories and concentration but will also have a lasting impact on their behaviour. This is achieved using the company's "revolutionary brain training development programme". The midbrain activation exercises include several activities such as breath work, brain gym, and eyeball exercises.
It has also been observed that children with autism, attention deficit hyperactivity disorder and dyslexia have benefitted from the workshop by developing more focus and a sense of calm, although the method does not claim to be a cure for these special conditions.
As an added bonus, children who go through the workshop are able to "see" blindfolded. This is due to their heightened sensory perception once the midbrain is activated.
GMA works mostly with children between six and 12 years old. The 'golden age' is within these six years when children are "receptive, cheerful and open". Children older than 12 years old need to attend a "chat session" to see if they are suitable for the programme.
"We typically ask the older children whether they are coming to the workshop on their own accord and whether they are willing to participate in full, like the younger children do," says Mr. Yao Shih Lien, GMA Singapore's founder. "The more child-like they are, the more effective the programme will be. However, we have taken in some teens who are above 17, and even some adults when they are determined to go through the programme, and they benefited from the programme too."
Mdm Chris Yam signed her eleven-year-old son, Zenith, up for the programme, and commented on two immediate results, "Memory Improvement! Concentration Improvement!"
She further adds, "Last year, during Zenith's primary five mid-term exam, he barely passed his Chinese language subject and I was rather worried as that would have affected his total aggregate score for his final exams.
Since Zenith's midbrain activation, something unbelievable has happened – when we collected his Primary School Leaving Examination (PSLE) results, he scored an A* for his Chinese (which is 91 marks and above)"
According to Mr Yao, "The results of midbrain activation are not just about improving academic results. The programme also unleashes the potential of the child, who often becomes more confident, more determined and less self-centred. We have also seen children improve in sports and music." When children are interested, they will excel further. Every child is unique and hence the benefits are also unique to that child."
Mr Terence Lim, enrolled his ten-year-old son, Yue Han, for the 2 day workshop because he has mild Attention Deficit Hyperactivity Disorder (ADHD). "He just cannot sit still for more than 10 minutes and is simply unable to focus on anything he does. After GMA's two day mid brain activation workshop, his improvement has been amazing! He is able to pay attention and focus for a much longer time. Now Yue Han has gone on to score enough marks in his Primary School Leaving Examination (PSLE) to enter the express education stream, something I never dreamt of."
About Genius Mind Academy
Genius Mind Academy (GMA) runs child enrichment workshops aimed at fostering and nurturing a child's multiple intelligences. At GMA, we encourage a desire for learning, promote emotional and intellectual liveliness and empower children with the confidence to achieve their aspirations. Our aim is to help children develop extraordinary capabilities by drawing on the hidden possibilities in every human, enhancing well-balanced development of the body and mind, nurturing greater sensitivity and instilling rich creativity.
For more information, please visit: http://www.GeniusMindAcademy.com.sg