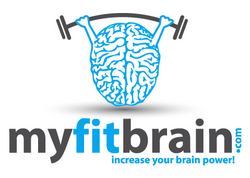 Glenview, IL (PRWEB) April 10, 2009
Myfitbrain announces the release of its innovative brain training software at no charge to users due to its unique advertising model. Myfitbrain, started with the premise of allowing everyone to benefit from fun software that stimulated the mind. In order for that to be possible, Myfitbrain came up with a new advertising model which allows advertisers to dynamically load products into the game pieces, significantly increasing product recognition when compared to traditional advertising methods.
Myfitbrain includes multiple types of mental fitness games focusing on different parts of the brain to sharpen the overall brain and encourage the generation new brain cells. While some consumers exclusively enjoy games such as Sudoku or crossword puzzles which stimulates some areas of the brain, stimulating many cognitive areas of the brain is significantly more beneficial. The learning management system built into Myfitbrain will maintain a player's performance and drive them through the different games while challenging different cognitive abilities.
The patent pending advertising model will incorporate a company's brand name or products (icons) directly into the playing of the brain games. During the course of play, users will be directly interacting with the icons. While people play the games, they will repeatedly say the icon name to themselves.
Commenting on the introduction of Myfitbrain, President and CEO Jim Hanekamp said, "It is really important that this beneficial and fun technology be available to all people regardless of their monetary means. Traditional banner ads and clicks would not allow me to develop a high quality system. By utilizing my innovative advertising model, the ads are not obnoxious and the advertisers get a higher ROI than traditional advertising."
Myfitbrain will continue to develop more mental fitness games to keep the novelty of the game playing high which helps to stimulate the brain. Myfitbrain will work closely with its advertising partners and their agencies to develop challenging games that incorporate products into the games and that are stimulating to the mind.
The software was developed in conjunction with Kreeda Games India Pvt. Ltd., located in Mumbai, India. The system is hosted utilizing cloud technology to enable rapid expansion with a robust infrastructure.
About Myfitbrain, LLC:
Myfitbrain is a company founded to deliver software to improve the brain at no cost to the end user. It does this by utilizing a unique (patent pending) advertising approach of incorporating a company's brand and/or products into the game play.
Contact:
Jim Hanekamp, President
Myfitbrain
847-274-3196
###