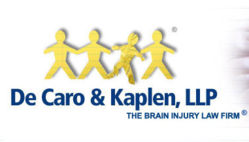 The signs and symptoms of a traumatic brain injury (TBI) can be subtle, and may not appear until days or weeks following the injury.
Pleasantville, NY (PRWEB) October 03, 2012
The brain injury law firm of De Caro & Kaplen, LLP is currently educating the public about the signs and symptoms of traumatic brain injury. Considered to be a national health epidemic, the serious health issue is known for its unpredictability, and can affect individuals without warning. The lawyers at the New York brain injury firm are encouraging individuals to learn more about the disease in an effort to better recognize its warning signs and prevent lasting injury.
The Centers for Disease Control (CDC) has provided frightening statistics about the prevalence of brain injuries in the United States. According to the CDC, each year 1.7 million Americans will sustain a traumatic brain injury. From this staggering number, 52,000 will die; 275,000 will be hospitalized; and 1.365 million will be treated and released from a hospital emergency department. These statistics do not capture the vast number of people with traumatic brain injuries who are not seen in an emergency department or who do not receive any care.
Learning more about what causes traumatic brain injury is one helpful way for individuals to gain more information about the silent epidemic. The leading causes of traumatic brain injuries according to the CDC are: falls (35.2%); motor vehicle-traffic crashes (17.3%); struck by/against events (16.5%); assaults (10%); and unknown or other events (21%). It is estimated that direct medical costs and indirect costs, such as lost productivity, following brain damage total an estimated $60 billion in the United States per year.
The signs and symptoms of a traumatic brain injury (TBI) can be subtle, and may not appear until days or weeks following the injury. Many symptoms can even be missed, as those with a head injury may appear physically fine even though they may act or feel differently. The following are some common signs and symptoms of a TBI:

Headaches or neck pain that does not go away
Difficulty remembering, concentrating, or making decisions
Slowness in thinking, speaking, acting, or reading
Getting lost or easily confused
Feeling tired all of the time, having no energy or motivation
Mood changes (feeling sad or angry for no reason)
Changes in sleep patterns (sleeping a lot more or having a hard time sleeping)
Light-headedness, dizziness, or loss of balance
Urge to vomit (nausea)
Increased sensitivity to lights, sounds, or distractions
Blurred vision or eyes that tire easily
Loss of sense of smell or taste
Ringing in the ears
Children with a brain injury can have the same symptoms as adults, but it is often harder for them to let others know how they feel. Call your child's doctor if they have had a blow to the head and you notice any of these symptoms:
Tiredness or listlessness
Irritability or crankiness (will not stop crying or cannot be consoled)
Changes in eating (will not eat or nurse)
Changes in sleep patterns
Changes in the way the child plays
Changes in performance at school
Lack of interest in favorite toys or activities
Loss of new skills, such as toilet training
Loss of balance or unsteady walking
Vomiting
The New York brain injury attorneys at De Caro & Kaplen, LLP can provide legal assistance following a brain injury. Experienced brain injury lawyers Michael V. Kaplen and Shana De Caro concentrate their legal practice on representing victims of brain trauma caused by car accidents, bus crashes, truck crashes, dangerous construction sites, unsafe buildings, and medical malpractice. The brain injury law website can be viewed at http://www.BrainLaw.com, and those with inquiries can call toll-free 1-866-BRAIN LAW to learn more.
New York brain injury lawyer Michael V. Kaplen, Esq. is the chair of the New York State Traumatic Brain Injury Services Coordinating Council and the immediate past president of the Brain Injury Association of New York State. He has served as chair of the Traumatic Brain Injury Litigation Group of the American Association for Justice. Michael publishes a news and information blog on traumatic brain injury at http://www.BrainInjury.Blogs.com.