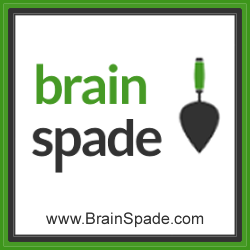 Challenging your brain every day is an important part of building a brain-healthy lifestyle and minimizing risks of developing Alzheimer's disease and other dementia-related conditions.
Richmond, VA (PRWEB) January 23, 2013
BrainSpade.com launched a new, free consumer brain training application on January 15, 2013. Offering unique brain games and brain teasers, the team at Brain Spade provides fresh new training exercises each day on the site.
"Neuroscience has proven that exposing our brains to a variety of novel experiences can help our brains continue to thrive into adulthood," says Gemma Brooks, co-creator of BrainSpade.com. "If it's not fun and engaging, people won't stick with it. That's why our designers focus on building beautiful, challenging cognitive activities to keep your brain moving."
BrainSpade.com is a completely free application, the latest in a series of successful web applications created by The Rowing Team, LLC. "We are passionate about brain health and helping adults continue to thrive and gain confidence in their thinking skills," says Claire Herring, co-creator of both http://www.BrainSpade.com and http://www.DaisyBrains.com. "We hope to continue to explore new ways to help adults exercise their memory, reasoning, math and language skills in a fun way."
The team's work has been recommended by physicians and clinicians as a way of helping people say mentally fit. Unlike some competing brain fitness websites, Brain Spade developers do not believe that one single brain game or brain teaser will make people's brains stronger or prevent Alzheimer's simply by playing them again and again. "We focus on creating a variety of unique content and changing things up to keep our users interested," says Brooks. "We also provide brain health tips focused on nutrition, sleep and exercise because a brain-healthy lifestyle truly begins with taking care of our body."
Brain Spade is planning to release more new brain games later this year and has begun work on a mobile application to help adults give their brain a workout while on the go.
Based in Richmond, Virginia, Brain Spade is an entirely free site designed for users everywhere. For more information, visit BrainSpade.com.