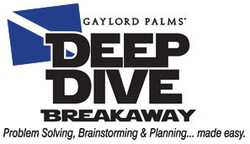 Companies that act quickly to recognize what's going on -- and companies that take the appropriate accountable actions -- stand to come out way ahead when the good times start again
Kissimmee, FL (PRWEB) May 13, 2008
Gaylord Palms Resort & Convention Center is offering a tool for Florida companies racing to keep pace with an ever-changing business landscape. The program - called Deep Dive Breakaways - includes a "turn-key" program for an off-site brainstorm or strategy session.
"Our customers are telling us that the business landscape continues to change at a pace they've never seen before," said Mike Wainwright, vice president of sales and marketing. "Our 'Deep Dive Breakaways' program gives companies and organizations an easy way to assemble teams in an off-site environment to tackle or brainstorm business strategy and innovation."
The program, designed for groups as small as 10 people, includes:

guest rooms
unique spaces designed for brainstorming
and a flexible menu of services and experiences designed to foster an environment of productivity
"For instance, we can arrange for a late morning bus to pick up 10 members of a cross-departmental team in Tampa, for a short trip to Orlando," continued Wainwright. "Strategy discussion can begin on the bus, and continue in a brainstorming suite at the hotel. Next, the group can take a break with an evening team-building dinner. The productivity and discussion continues the next morning, before boarding the bus to get the team back to Tampa in time for close of business."
Such flexible - and quick - meetings can make the difference for companies who are looking to respond to economic and consumer trends. "We are giving teams a chance to get away from the distractions of the office to concentrate on a 'wildly important' topic or strategy," said Wainwright.
According to economists, one of the most important thing a company can do during an economic downturn is to watch their business and quickly respond to trends. "Companies that act quickly to recognize what's going on -- and companies that take the appropriate accountable actions -- stand to come out way ahead when the good times start again," said Wainwright.
We Make it Easy!
Once a meeting planner books a Deep Dive Breakaway, he or she is assigned an Executive Meetings Manager, who helps to design a custom program using several specially designed 'thought starter' packages.
Each Deep Dive Breakaway package is designed to stimulate both sides of the brain, each with its own vibe, including color, look, feel, menus, non-traditional meeting locations and sets, meeting amenities and activities. Additional enhanced services are ready to complete the custom experience.
For more information about your next executive retreat, or Deep Dive Breakaways, visit http://www.deepdivebreakaways.com or call 407-586-DIVE.
About Gaylord Palms
Gaylord Palms Resort & Convention Center has gained the attention of the meeting and convention industry by providing world-class convention and leisure-focused amenities - all in one place. The award-winning Gaylord Palms is a Gaylord Hotels-branded property owned by Gaylord Entertainment (NYSE: GET), a leading hospitality and entertainment company based in Nashville, Tenn. For more information, visit http://www.gaylordpalms.com or http://www.gaylordentertainment.com.
Media Contact: Keith Salwoski, 407-586-0315
Sales Contact: Gaylord Palms Sales, 407-586-DIVE
###