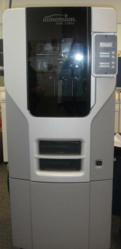 3D printers are a game changer in new product development.
Braintree, MA (PRWEB) February 28, 2013
Braintree Printing, one of the top digital printing and offset printing companies in the Northeast, is now the first printer in New England to embrace 3D technology with the recent purchase of a Dimension 1200es 3D printer by Stratasys. In just minutes, customer digital files become physical 3D objects. Prototypes, customized parts, architectural and medical models and more can be easily produced by the 3D printer.
Braintree Printing has always been a visionary when it comes to printing and owner Jim Corliss views his latest embrace of 3D technology as a natural next step in the industry's future. "It's an exciting technology and we're excited to share it with our customers," he said of the company's new 3D printer. Corliss said 3D printing will be a boon to designers, engineers, medical professionals and manufacturers, saving them time and money on product development.
3D printing is a type of additive manufacturing that builds three dimensional objects through a layering process. Unlike printing a document the traditional way, ink on paper, 3D printers apply layers of plastic on a build tray to produce accurate and functional 3D models. The 3D printer works hand in hand with a 3D CAD file which is imported into Catalyst EX Software. The software slices and orients 3D models and plots a precise deposition path for the Dimension 3D Printer to follow.
At Braintree Printing's plant, customer service representative Robin Clark has been testing the new 3D printer. She has created an assortment of 3D products, from an entire chess set to screws, chains, gears, wheels, a human heart and a toy dragon. "It's amazing what this printer can do," she said. The Dimension 3D printer can produce models as large as 10 x 10 x 12 in multiple colors. Braintree Printing's youtube video shows a tiny replica of a boat being printed.
"3D printers are a game changer in new product development," said Corliss. "Our customers will be able to perfect their products before they go to manufacturing - all at the touch of a button. "
About Braintree Printing
Braintree Printing provides offset printing and digital printing for printers and print brokers throughout the Northeast. Owned by Jim Corliss, Jerry Hogan and Jose Tafur, the 30-year-old company specializes in high-end, 4 and 5 color offset printing and digital printing, book printing, and various types of bindery and finishing. With $6.51 million in annual sales, Braintree ranked 18th and was the highest ranking Massachusetts printer on Quick Printing Magazine's 2012 Top 100 List. Braintree Printing operates in a 17,000 square ft plant on Wood Road in Braintree, MA. Business hours are 8:30 am to 6:00 pm, Monday through Friday, with production areas working 24/7 to meet customer demand. For information, call 781-848-5300 or visit http://www.braintreeprinting.com.