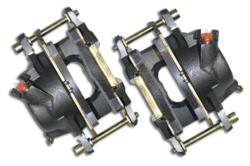 The lack of warranty protection, excessive wear and tear and reduced inventory represents some of the problems that buyers can have when researching parts.
Memphis, Tennessee (PRWEB) May 17, 2013
Braking systems for automobiles can include multiple parts and components depending on the year of manufacture. Locating used parts for replacement requires a trusted source when dealerships are not used. The AutoProsUSA.com company now stocks thousands of used auto parts online and has now added brake calipers for sale. These preowned parts are designed for placement into import and domestic vehicles. The calipers are offered for a lower than retail price to ensure all buyers can have access to a price less than what some dealerships charge. The brake parts and accessories inventory can be searched online at http://autoprosusa.com/used-brake-calipers-for-sale.
The replacement auto parts industry is supported in part by used sellers like junkyards and salvage companies. Buyers searching for parts for immediate replacement can be confronted with more than one issue when purchasing secondary auto parts. The lack of warranty protection, excessive wear and tear and reduced inventory represent some of the problems that buyers can have when researching parts purchases online and offline.
The addition of the calipers for modern braking systems added online at the Auto Pros company is one effort made by this company to expand its inventory of available auto parts for buyers nationwide.
Enhancements have been made this year to the company website that is streamlining the parts ordering process. The offline method of receiving information and pricing remains in place through the company toll-free number. This method has now been enhanced to include dedicated specialists who now provide faster information, parts lookup and other services for buyers during regular business hours.
These enhancements now include an online version of price quotations that ensures pricing is attainable for buyers at the click of a button. Each of these systems can be used for parts information, price requests and order placement.
Apart from the calipers now added to the company inventory, other parts have been added this year to provide one of the most complete brake inventories currently offered on the Internet. The news release at http://www.prweb.com/releases/brake-booster/used-brake-booster/prweb10712061.htm was used to inform brake parts buyers of the addition of boosters and other components. These inventory upgrades are now helping the Auto Pros USA company to offer complete brake systems and individual components for better online pricing.
About AutoProsUSA.com
The AutoProsUSA.com company constructed its online resource center of used auto parts in order to provide better alternatives to parts buyers in North America. This company is helping to erase the delays and complications that can be found with some online and offline sellers. The company inventory is managed by professionals who know the current demand in the secondary parts market. The AutoProsUSA.com company developed its website to produce price quotes for all in stock parts and to provide helpful information to buyers before sales are made. This company provides a dedicated toll-free number for parts inquiries, quotes and other services to assists all buyers before and after sales are complete.