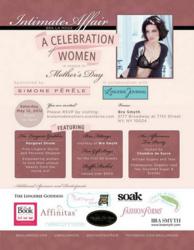 A Celebration of Women will provide women of all ages, shapes, and sizes the opportunity to receive a free bra fitting as well as education on the importance of a proper fit courtesy of Bra Smyth
New York, NY (PRWEB) May 01, 2012
Intimate Apparel resource site BraLaMode.com is hosting "A Celebration of Women" in honour of Mother's Day, an in-store bra fit and shopping event from Noon to 4:00pm on Saturday, May 12, 2012, at the upscale, intimate apparel boutique, Bra Smyth, 2177 Broadway (at 77th Street,) NYC. Bra Smyth's dedicated, professional bra fitters offer over 100 years of combined experience and each boutique has seamstresses on staff to make custom alterations which provides legendary personal service to their loyal clients.
The event, "A Celebration of Women," will provide women of all ages, shapes, and sizes the opportunity to receive a free bra fitting in an exclusive environment as well as education on the importance of a proper fit courtesy of Bra Smyth. Additionally, Bra Smyth is offering a 10% discount off the purchase of all sleepwear throughout the event.
The Intimate Affair is sponsored by luxury French lingerie brand Simone Pérèle, in collaboration with the leading lingerie publication, The Lingerie Journal.
The event will feature special guest "The Lingerie Goddess," Margaret Shrum – fine lingerie stylist and personal shopper. Margaret's mission is to empower women to love their unique beauty from the inside out! In addition, Chambre de Sucre is hosting an Afternoon Tea Party at the in-store event featuring artisanal sugars and custom blended tea, as well as champagne and scones. Chambre de Sucre is a 270-year old business based in Nagoya, Japan, specializing in handcrafted sugars for coffee and tea- no flavors and no additives, only pure sugar, served up most luxuriously!
RSVP Info
Guests are encouraged to RSVP for the in-store event at: http://www.bralamodemothers.eventbrite.com
Gift bags in honour of Mother's Day will be distributed to the first fifty guests, and all guests can expect a free gift with purchase courtesy of the event's sponsor, French brand, Simone Pérèle.
The highlight of the Intimate Affair will be the raffle for a Grand Prize basket that is estimated as having a value of over $400.
Contributors to the raffle prize include Bra La Mode, Bra Smyth, Simone Pérèle, Chambre de Sucre, Affinitas Intimates, the no-rinse, biodegradable & eco-friendly SOAK WASH, luxury lifestyle brand Naked Princess, Ann Deal of Fashion Forms, and "Bra-lebrity" Jené Luciani. Additional sponsors of the event include The Full Figured Chest and I Fell into A Whale. All guests will receive one entry into the raffle and guests that make a purchase of a bra at the event will receive a second entry into the raffle.
Moira Nelson, founder of Bra La Mode, is a proud member of the non-profit Intimate Apparel Square Club (IASC) and works hard to promote the organization's work. The IASC raises funds to support a variety of charitable organizations, with pediatric rehabilitation and treatment being the primary beneficiary of its fundraising activities. The IASC's H.U.G. (Help Us Give) Award is presented to well-respected, high-profile companies, organizations and individuals at the IASC's annual gala fundraiser in support of pediatric rehabilitation. Ann Deal of Fashion Forms was the 2011 H.U.G. Award recipient. Ann has made a very generous contribution to this bra fit event. A portion of proceeds from this event will be donated to IASC to help support the "Kids."
About Moira Nelson and Bra La Mode:
Moira Nelson has worked in the wholesale Intimate Apparel industry for over a decade and is the founder of Bra La Mode, a resource for professionals in the Lingerie industry and related fields. Bra La Mode takes an Intimate look inside Intimates by hosting unique intimate apparel events and features event coverage of Intimate Affairs, intimate interviews with Intimate Insiders, and opinion pieces providing Intimate Insights.
About Bra Smyth:
Bra Smyth's New York roots go back three generations and over 80 years, starting in 1932 with a store in the Bronx. The flagship store is on Madison Avenue, and Bra Smyth's current staff offers over 100 years of combined experience. The demand for Bra Smyth's dedication and upscale approach to intimate apparel has grown over the years; and with it, Bra Smyth's desire to expand the business. After much success through their catalogue, and nearly a decade of booming sales on brasmyth.com, Bra Smyth now has three brick-and-mortar retail stores in the greater New York City area. All of the Bra Smyth stores offer you the quality intimate apparel products from their catalogue that you love, with the legendary personal service of the Madison Avenue flagship store. Professional fitters are on hand at all locations to make sure you get the perfect size bra, as well as seamstresses who can make custom alterations. You'll never find a better fit!
About Simone Pérèle:
Luxury French lingerie brand, Simone Pérèle, was founded in Paris in 1948 by Madame Simone Pérèle, an expert corset maker. Madame Pérèle had a vision to liberate women and to design lingerie that embraced a woman's natural shape. She quickly gained a reputation for breaking with tradition, in creating lingerie dedicated to a women's desire to look beautiful, yet also feel comfortable. Simone Pérèle combined passion and precision, collection after collection, to achieve superior fit, ultimate comfort and sophisticated styling. Today, Simone Pérèle is renowned as one of the leading manufacturers of fine French lingerie. Every collection is inspired by art, travel and culture; quality fabrics, laces, embroidery and ribbons are selected with infinite care to enhance a woman's natural curves. Simone Pérèle lingerie evokes not only elegance and style, but also comfort and well-being. "A woman should not have to choose between being comfortable and feeling beautiful...she can have it all." ~ Simone Pérèle
About The Lingerie Journal
The Lingerie Journal is the number one online lingerie trade publication in the United States reaching hundreds of consumers, buyers, lingerie retail store owners, independent lingerie designers, wholesale manufacturers, influential lingerie bloggers, and other intimate apparel professionals (as well as those in related fields) on a daily basis.
About Margaret Shrum and The Lingerie Goddess:
The Lingerie Goddess is a brand that educates, empowers and inspires women to embrace their unique beauty at every age, and regardless of shape and size by tapping into their sensuality and using lingerie as a tool for pleasure. The Lingerie Goddess, Margaret Shrum, is known for her luxury lingerie personal shopping service and is author of the ebook, Secrets of The Lingerie Goddess. Margaret has over two decades of fine lingerie experience; she has worked for high fashion companies like Barneys New York and La Perla and is well-known for her lingerie personal shopping service, The Lingerie Diet. Margaret takes women to the most exclusive boutiques in Manhattan, and assists them in building a lingerie wardrobe based on their individual lifestyle and unique desires. The Lingerie Goddess online boutique just launched and features products hand selected by Margaret, including luxury lingerie by independent designers, hi- tech shapewear, and high quality pleasure accessories.
About Chambre de Sucre:
Chambre de Sucre is a 270-year old business based in Nagoya, Japan, specializing in handcrafted sugars for coffee and tea. Using only the finest quality sugar from Japan, Chambre de Sucre has been featured in numerous publications including The New York Times, Saveur, Real Simple, Brides, and Gotham Magazine. Chambre de Sucre offers a fine variety of sugars to suit every occasion - think champagne cup huggers for wedding celebrations, colorful, tiny sugar orbs for tea parties, and our classic sucre pierre for your morning espresso. No flavors and no additives, only pure sugar, served up most luxuriously.
bralamode.com
brasmyth.com
simoneperele.com
thelingeriejournal.com
thelingeriegoddess.com
chambredesucre.com
#IntimateAffair