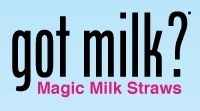 The marriage of Magic Milk Straws and the Got Milk? ® campaign further supports the fact that Got Milk? ® is a powerful brand, not just a campaign
Minneapolis, MN (Vocus) September 29, 2010
Since launching earlier this year, Got Milk? ® Magic Milk Straws have become a vital solution for moms all over the U.S. who are seeking a flavorful and healthy way for their children to get the essential nutrients they need from milk. The popularity of the official Got Milk? ® product has aided in transforming the iconic ad campaign into a full-fledged brand.
Selling out in Target, Walgreens and CVS stores all over the U.S., Magic Milk Straws have filled the void between flavor and nutrition for kids who need the benefits of milk without the gluten, sugar, additives and fat of other milk flavoring products on the market.
"The marriage of Magic Milk Straws and the Got Milk? ® campaign further supports the fact that Got Milk? ® is a powerful brand, not just a campaign," says Paul Henson, FMMI's vice president of marketing. "We're so happy to provide the nutritional answer moms have been looking for alongside the brand."
Parents, dietitians and physicians nationwide have contacted FMMI, the straws' Minneapolis-based licensee and distributor, with testimonials and praise for helping change the way their children view -- and taste -- nutrition.
Ironically, Got Milk? ® Magic Milk Straws, which are lactose free, have also found a market among children with milk allergies. The straws can be used to flavor any nutritious milk beverage, including soy and almond milk. Together with Got Milk? ®, FMMI has helped extend the brand into broader markets.
In response to the product's popularity, FMMI recently announced Magic Milk Straws will expand into thousands more retailers early next year, and will add new flavors, promotions and package sizes to its lineup of products.
About Got Milk? ® Magic Milk Straws
Magic Milk Straws transform plain milk into a healthy and delicious treat that helps kids get the essential nutrients they need every day. Current Magic Milk Straws flavors include Cocoa, Strawberry, Vanilla and Cookies & Cream. The flavored milk straws are all-natural, low in sugar, and are lactose and gluten free.
A brand new website for Got Milk? ® Magic Milk Straws was designed, built and launched by Internet Exposure, a Minneapolis web development agency. Magic Milk Straws is currently running a "Name The Cow" contest on its website. The lucky winner will receive a year's supply of the product.
About FMMI
FMMI is a Minneapolis-based marketing and distribution company that has been a credible pipeline to the retail trade for big brand licensees and licensors for nearly 15 years. FMMI's expertise in brand management, marketing and distribution of youth brands, such as Disney, Marvel and Nickelodeon, has made it a leader in trend merchandise.
###