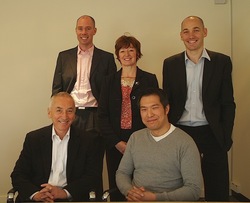 It is a real endorsement of our capability, for our creative output to be associated so closely with such a highly respected international market research company
(PRWeb UK) February 8, 2011
Leeds-based Frank Communications has been the design and marketing agency for B2B International for five years, looking after all its global advertising and marketing campaigns in print and online, and has created the research company's distinctive external look and feel, including promotional literature as it expanded into China and America. Now the international market research company has taken the relationship a step further with a 50% share of the creative agency. The new venture builds on this history and the excellent working relationships at director and creative levels.
Richard Fisher, MD of B2B Marcomms, sees this joint venture as a great opportunity to have a big name behind their creative. "It is a real endorsement of our capability, for our creative output to be associated so closely with such a highly respected international market research company. As well as building our own client base further, the venture will give support to B2B International's clients. We also expect that the link will provide the structure and the breadth of experience to help enable our ambitious growth plans."
B2B International's founder and MD, Nick Hague, is excited about this chance to offer his clients a new service, one which will provide design, advertising and brand marketing once B2B International has undertaken market research. "Our brand identity has been built up by Frank Communications and we wanted to strengthen the link further, for our own mutual advantage but also to be able to offer our own clients an extra service. We have always prided ourselves on delivering market intelligence that gives our clients greater insight on their markets to enable them to grow. However, this new venture comes at a very exciting time for B2B International. Teaming up with B2B Marcomms allows us to extend our offering to our clients so that we not only deliver market information to feed their strategic planning but now we are in a position to offer a complete, joined-up service enabling us to help with marketing and communications implementation from brand development through to direct mail fulfilment and digital media management. Instead of clients needing to use multiple companies to execute their marketing strategies, now they need only come to one company."
There is much mutual respect. Fisher says: "the B2B International brief is always excellent and the relationship benefits from them allowing us creative scope and imagination. There is a real understanding between the two companies which stems from not only working together for such a long time but also from a very similar philosophy and approach to business. This joint venture represents an excellent opportunity for us to build upon our success and offer all our clients the benefits of a more comprehensive and joined-up service."
The B2B Marcomms website is now live - http://www.b2bmarcomms.com.
###