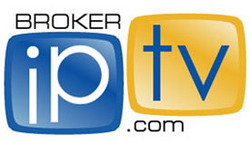 we have also incorporated a smoother category search in video player. We have added live streams too.
Denver, CO (Vocus) February 2, 2009
IPTVBoyz, a pioneer in marketing and brand management on the web revamps their Real Estate Industry portal called BrokerIPTV.com. The site now boasts more features and added functionality for visitors. BrokerIPTV.com is a Business Video/ Blog channel that incorporates video segments and blog postings as well as social media aggregation to build relevance on the web equating to higher "organic" returns on search engines for the stories it produces.
Mark Eibner co-creator of BrokerIPTV.com and co-founder of IPTVBoyz.com says, "today's site visitor wants the ability to customize their experience. We have delivered this with our latest site. The news categories can be arranged by the visitor to fit their desires." Eibner added, "we have also incorporated a smoother category search in video player. We have added live streams too." These new features make for a better site experience for the visitor.
IPTVBoyz have also built other features that they are incorporating into other clients channels. These features include a Real Estate module that allows data feeds from IDX providers to update a customers blog channel. IPTVBoyz have also added an easy to use Social Media API that helps clients easily disseminate information to multiple social media sites on the web. It is features like the ones identified above and those already incorporated into the IPTVBoyz platform that are helping their clients stand out on the web. The IPTVBoyz Business Video/ Blog channel is non denominational. It can work for all business sectors. See what it can do for you; contact IPTVBoyz today to schedule a free one hour consultation (303) 800-1006.
IPTVBoyz is a privately funded media company based in Denver, Colorado. The member partners have a combined experience of over 100 years in video production, TV broadcast, search engine optimization, social media marketing, streaming technologies and internet video player technologies. IPTVBoyz was formed to help small to mid level businesses compete against large national brands. The company's mission is to ensure each business has the tools, content and features to position themselves with premiere search placement in their respective industry genres. For more information, please visit http://www.IPTVBoyz.com
Leveraging future technologies to deliver measurable results for clients today!
###