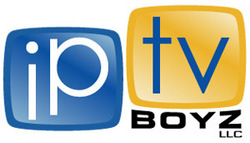 I have looked at the Infomercial sites currently offered in the Web space and really believe that the IPTVBoyz platform can deliver a thousand times more relevance
Denver, Colorado (Vocus) January 30, 2009
IPTVBoyz, a local communications company offering turn-key solutions for web brand management, video, blogs, syndication and SEO, announced today the deployment of their state-of-the-art Vlog/Blog & Social Media platform to help infomercial product companies dominate Web search. The infomercial industry is a $300 Billion dollar segment and IPTVBoyz is poised to help these companies capitalize on the market by reaching more consumers via organic Web search.
This new application to the IPTVBoyz proprietary platform will be called Webtasticdeals.com and will offer services specific to the infomercial vertical. Mark Eibner, co-founder of IPTVBoyz, feels that the Search Engine 'juice' built into this platform will help take the infomercial products to new levels.
"I have looked at the Infomercial sites currently offered in the Web space and really believe that the IPTVBoyz platform can deliver a thousand times more relevance," Eibner said. "In my opinion, the sites today are just static Billboards on the web and require other forms of media to drive customers to them. The IPTVBoyz platform is active, aggressive and truly the future of Web marketing."
Webtasticdeals.com customers will benefit from the use of Video segments, Blog postings and social media pinging. Each Webtasticedeals.com site will become a repository of information as well as a research portal. The platform will provide a site where the infomercial client can use their video assets as well as testimonials to drive their message constantly on the Web.
Webtaisticdeals.com has already landed its first customer, Longeva Labs from Oklahoma City, Oklahoma, the makers of Miraflex, an over-the-counter topical medication for relief from aches and pains of the joints and muscles associated with arthritis, lower back pain, strains, sprains and bruising. Miraflex postings will appear on the webtasticdeals site. There will be client testimonials, product information and, in the future, an area that will allow customers to upload their own videos showing how Miraflex has helped them lead a healthier, happier and pain free life.
IPTVBoyz is a privately held company based in Denver, Colorado. IPTVBoyz are forward thinking web marketers who are experts at B to B, B to C and Brand Management on the web. For more information on IPTVBoyz and their new infomercial platform, contact Mark Eibner at 303-800-1006.
Leveraging future technologies to deliver measurable results for clients today!
###