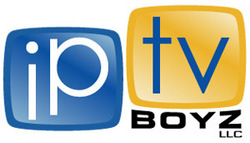 The IPTVBoyz Business Blog hosted on the Vidseotv.com domain will be an extremely effective tool for our clients
Denver, CO (Vocus) January 30, 2009
IPTVBoyz, a pioneer in marketing and brand management on the web, announces a relationship with CP&I Marketing, a full service advertising and marketing agency based in Denver. The new partnership allows CP&I's clients access and space on IPTVBoyz's newly-launched VIDSEOTV.com.
CP&I Marketing (http://www.CPandI.com ) services a variety of customers such as quality furniture dealers, politicos, automobile dealers, restaurants, mortgage brokers, home gym retailers, amongst many others. VIDSEOTV.com, a new, state of the art technology, will allow the CP&I community a simple and cost effective means of integrating video, blogging and a social media pinging services into a client's existing business practice.
VIDSEOTV.com extends corporate communications channels, brand recognition and sales and marketing strategy, helping the client win on the web. "The IPTVBoyz Business Blog hosted on the Vidseotv.com domain will be an extremely effective tool for our clients," notes Ike Isenhart, partner and founder of CP&I Marketing. "We feel that this is a direction that will pay dividends in the very near future for our clients."
Dirk Freeman, co-founder of IPTVBoyz, is ecstatic to have CP&I Marketing embracing his platform. "Studies continue to indicate the future of business success will be found through web searches and video delivery to the person who initiates the search. VIDSEOTV.com will help clients significantly enhance their brand in the blogosphere/web."
IPTVBoyz is a privately funded media company based in Denver, Colorado. The member partners have a combined experience of over 100 years in video production, TV broadcast, search engine optimization, social media marketing, streaming technologies and internet video player technologies. IPTVBoyz was formed to help small to mid level businesses compete against large national brands. The company's mission is to ensure each business has the tools, content and features to position themselves with premiere search placement in their respective industry genres. For more information, please visit http://www.IPTVBoyz.com.
Leveraging future technologies to deliver measurable results for clients today.
###