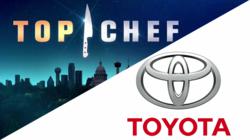 Los Angeles, CA (PRWEB) January 08, 2013
Brand Arc's work on behalf of Toyota was honored recently at the Cristal Festival's first Brand Entertainment & Contents Summit, which recognized the best original, engaging and entertaining content from across the globe.
The branded entertainment firm took home a Sapphire Award for Best Brand or Product Integration into an Existing TV Show, for "Top Chef: Texas"' "Last Chance Kitchen." The success of the web series and its accompanying marketing extensions surpassed expectations and provided huge results for Toyota, reaching 22 million new viewers across all platforms. An integrated cross-platform campaign included in-show integrations, giveaways, web drivers and promos, and live voting.
"I love that we won our Cristal Award for such an integrated program," said Rob Donnell, Founder and President of Brand Arc. "Top Chef: Texas' 'Last Chance Kitchen' let Toyota attract new fans and engage people all over the media map—and us do so much more than dress a set with a car or drop a model name into a TV show script. "
The event was hosted Dec. 12 through Dec. 14 at the Crans Montana Ski Resort in Switzerland. Since 2001, the Cristal Festival has served as the not-to-be-missed annual showcase of the latest trends and developments in the industry. The summit brings together European and international agencies, advertisers, producers, publishers, media, talent and members of the technical industries through debates, keynote speakers, conferences and workshops.
The Brand Entertainment & Contents Summit rewarded the year's best branded video, entertainment, music, experiential, digital, gaming and live events. Other U.S. winners include BBDO New York, Ogilvy New York, Warrior Poets, Leo Burnett New York, GreenLight Media & Marketing and Leo Burnett Detroit.
About Brand Arc
Brand Arc is a dedicated team of highly specialized experts and experienced professionals who work with an established network of entertainment industry relationships to create and build compelling and engaging entertainment marketing campaigns through innovative thinking, collaboration and deep strategic insights brought to each opportunity. The agency is a 2012 One Show Entertainment Gold Pencil winner, a three-time winner of Madison & Vine's "Five Best Integrations of the Year" and a 10-time winner of iTVX's "Featured Placement of the Week," and its work has been featured in the Association of National Advertisers' "Best Practices in Branded Entertainment." More information about Brand Arc and its work – for clients that include Toyota, Lexus and Tamiflu – is available at http://www.brandarc.biz.