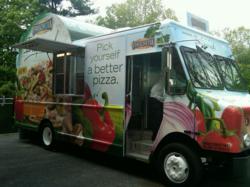 "We designed the Simply…Inspired tour to delight fans, drive trial and achieve key marketing goals," says Sherry Orel, CEO at Brand Connections.
NEW YORK, NEW YORK (PRWEB) July 20, 2011
Natasha Bedingfield took her uptempo pop and R&B music on the road this summer with her "Less Is More" Live Nation tour, sponsored by Freschetta Simply...Inspired. To get her fans delightfully fueled for the fun, Freschetta presented Bedingfield fans in every concert location with an integrated marketing experience created and produced by Brand Connections (http://brandconnections.com/) to harness the emotional power of music to authentically engage young women, the brand's target consumers.
Brand Connections, a leading venue-based marketing and media company, excited and delighted Bedingfield fans with the branded Freschetta food truck, to offer a fresh take on everyone's favorite food – Freschetta's new Simply…Inspired pizza.
"Freschetta teamed up with Brand Connections to bring this unique brand experience to Natasha Bedingfield fans. They approached the project strategically and creatively, and they have a history of delivering measurable results. Showcasing our fresh, hot pizza takes finesse; and Brand Connections has a reputation for exceeding expectations," says Chris Leising, senior director of marketing, Schwan's Consumer Brands, the makers of Freschetta.
This month, Brand Connections' crew of Freschetta brand ambassadors distributed Simply…Inspired pizzas from a custom food truck and sampling tent pitched next to concert venues. The promotion introduced Bedingfield's mostly female music fans to fresh-from-the-oven pizzas. Brand Connections specially designed the tent and food truck, and equipped it with freezers and ovens to ensure product trial in an optimum setting.
Online and offline come together at the events, where brand ambassadors equipped with iPads encouraged sampling and then enabled consumers to go online to review the pizza and sign up for the Simply V.I.P Sweepstakes to win tickets to Bedingfield's finale concert in Florida.
"When fans come to hear their favorite musicians, they expect to be delighted by the experience from start to finish. We designed the Simply…Inspired tour to authentically deliver on that expectation, drive trial and achieve key marketing goals," says Sherry Orel, CEO at Brand Connections.
The July campaign traveled to 11 concert venues and activated at retail locations in the majority of Bedingfield's concert markets to drive retail sales. Product sampling is particularly effective in non-traditional venues. Nielsen reports that the most proven way to get consumers to recommend a product is to have them experience it first hand.
Concert stops in July included:
‒ Jul 01 Anaheim, CA House of Blues
‒ Jul 02 San Diego, CA House of Blues
‒ Jul 03 Las Vegas, NV House of Blues
‒ Jul 04 Phoenix, AZ Martini Ranch
‒ Jul 06 Dallas, TX House of Blues
‒ Jul 09 St. Louis, MO The Old Rock House
‒ Jul 10 Nashville, TN The Exit/In
‒ Jul 11 Atlanta, GA Center Stage
‒ Jul 13 Myrtle Beach, SC House of Blues
‒ Jul 14 Tampa, FL The Ritz
‒ Jul 16 Ft. Lauderdale, FL Culture Room
About Brand Connections:
Brand Connections (http://brandconnections.com/) is one of the largest and fastest growing marketing and media companies focused on reaching consumers through venues. Since the company was founded in 2001, Brand Connections has connected 80% of the Fortune 500 brands with more than two billion customers by reaching them when they are in the right frame of mind to engage with brands. Brand Connections is expert in trial-generation; tactics include product sampling, targeted out-of-home media, experiential marketing, and social media integration. Brand Connections is majority owned by Veronis Suhler Stevenson, a leading media and communications private equity firm.
About Freschetta:
Freschetta® products are part of the national brand portfolio of Schwan's Consumer Brands, Inc., the retail grocery subsidiary of The Schwan Food Company. The Freschetta brand offers consumers a number of crust varieties, including Naturally Rising, Brick Oven™, California Style, PizzAmore®, By The Slice, Artisan, and the recently launched Simply… Inspired™ crusts. Freschetta Simply… Inspired pizza is a crispy thin-crust pizza that uses big, colorful cuts of vegetables, signature sauces, unique blends of premium cheeses and large cuts of meat. It's packaged in a Fresh Taste-Seal™ package that locks in fresh taste while using 30 percent less packaging by weight than a traditional pizza carton. Freschetta Simply…Inspired pizzas are available in eight varieties, including: Hawaiian, Farmers Market Veggie, Harvest Supreme, Southern BBQ Recipe Chicken, Rustic Pepperoni Pomodoro and Classic Bruschetta. Two varieties will also be available for a limited time and will be replaced by new limited edition varieties every six months. For more information about Freschetta® products, visit http://www.Freschetta.com.
###