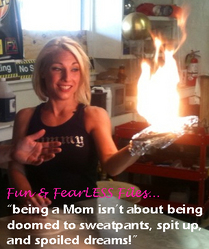 We are our children's role models...if we want happy kids, we need to be happy moms.
Austin, TX (PRWEB) June 25, 2010
Heather Schuck, CEO of Glamajama, is proving that motherhood isn't about being doomed to sweatpants, spit up, and spoiled dreams. As the host of a new branded entertainment series for moms, Fit and FearLESS Files, she pleads her case by engaging in very un-mom like activities such as getting set on fire, swimming with sharks, and driving a NASCAR race car. Launching this summer, the weekly web series challenges moms to overcome mom guilt and fulfill their dreams. Whether that dream is launching a business, taking an art class, or competing in a triathlon, Heather inspires Moms to embrace life.
As the CEO of the multi-million dollar children's company Glamajama, editor of glamaLIFE, and a full time stay at home mom to three young children, Heather Schuck is the epitome of a next generation mom. A mom that wants more out of her life, her family, and her career. However, Heather hasn't always been so confident. Like many moms, she battled with mom guilt that threatened to hold her back from fulfilling her dreams. She reminisces, "I was standing in a crowded shoe department completely love struck with a pair of red snakeskin stilettos. I'm going to be 30 years old with three kids, is that a reason to buy the heels? Or just walk away? Worlds were colliding. In my attempt to be Supermom, I had lost touch with my own happiness. I was letting unfounded mom guilt keep me from not just buying those heels, but expanding my business, taking windsurfing classes, and even having a girls night out."
Those red stilettos now serve as a metaphor for the Fit and FearLESS philosophy. Heather Schuck explains, "As I chatted with other moms, I quickly realized we all have our "red stiletto" moment. I created the web series as an entertaining way to remind moms to not walk away. Kids are a reason to fulfill our dreams and we can't let those dreams slip away simply because family life is demanding. We are our children's role models. If we want happy kids, we need to be happy moms." Heather's passion for overcoming mom guilt is contagious and evident in the pilot websiode now airing at glamaLIFE.com.
About glamaLIFE: Heather Schuck is a well respected and admired mom entrepreneur in the small business community. Despite her lack of fashion or business experience, Heather was able to turn her failed eBay hobby into a multi-million dollar company with distribution in national retailers such as Target, JCPenney, and Sears. As an early adopter and believer in the power of community, Heather Schuck has immersed herself in online outreach such as blogging, social media, and video broadcasts since 2003. Her strong identification with the mom audience and sincere appreciation for supporters led to the launch glamaLIFE.com in 2010.
For a complete biography and information regarding partnership opportunities with their new branded entertainment series, please visit glamaLIFE.com.
###