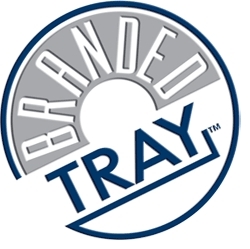 More than 80% of fans recall our trays and the messages on them. You just can't say that about other in-venue media.
Greenwich, CT (PRWEB) March 15, 2010
BRANDed, LLC, a sponsored food tray producer, is partnering with the WHEAT THINS brand to produce the first campaign of its kind for NCAA® March Madness®.
During this month's NCAA March Madness, Kraft Foods' Wheat Thins brand has teamed up with sponsored in-venue food and beverage tray producers, BRANDedTRAY™, to provide fans with more than exposure to out-of-home advertising, by offering fans a "brand experience."
According to a recent consumer research study conducted by Sponsorship Research International (SRi), BRANDedTRAY has demonstrated a more than 15% greater net awareness than in-stadium signage, and almost 40% greater awareness than in-game promotions. "Our product works,…" reports BRANDed TRAY Senior Vice President, Tom Flynn. "…more than 80% of fans recall our trays and the messages on them. You just can't say that about other in-venue media."
BRANDedTRAY's will be featured in 18 NCAA March Madness Men's and Women's basketball venues with a combined attendance estimated at 1.7 million.
"We've run sample campaigns before,…" says Kraft Foods Brand Marketing Director, Michael Tilley, "…but with BRANDed TRAY's help, we're thrilled with this opportunity to delight people with Wheat Thins in a new and unexpected place. And, it reinforces our effort to showcase Wheat Thins as a delicious snack with toasted whole grain crunch."
"We're putting brands in their hands…," explains Thomas Piccolo, VP of BRANDed, "…and in this case, a tasty one, at that."
Learn more about BRANDedTRAY online, and get their media kit on their NEWS + PRESS page.
About BRANDedTRAY
BRANDedTRAY produces high-quality sponsored food and beverage trays provided free during concession stand purchases at sports and entertainment events in participating stadia, arenas and race tracks. BRANDedTRAY is currently the approved tray of MLB, NFL, NBA, NHL, MLS, NCAA and NASCAR.
Get more information about BRANDEedTRAY and their pioneering text-to-win, couponing and 2D barcode promotions by downloading BRANDedTRAY's media kit at: brandedtray.com/media/ and/or fan BRANDed on Facebook.
About Kraft Foods
The combination of Kraft Foods and Cadbury creates a global powerhouse in snacks, confectionery and quick meals. With annual revenues of approximately $50 billion, the combined company is the world's second largest food company, making delicious products for billions of consumers in more than 160 countries. The combined company's portfolio includes 11 iconic brands with revenues exceeding $1 billion – Oreo, Nabisco and LU biscuits; Milka and Cadbury chocolates; Trident gums; Jacobs and Maxwell House coffees; Philadelphia cream cheeses; Kraft cheeses, dinners and dressings; and Oscar Mayer meats. Another 70+ brands generate annual revenues of more than $100 million. Kraft Foods (http://www.kraftfoodscompany.com; NYSE: KFT) is a member of the Dow Jones Industrial Average, Standard & Poor's 500, Dow Jones Sustainability Index and Ethibel Sustainability Index.
# # #