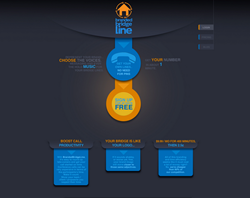 Your brand is more important than ours
Atlanta, GA (PRWEB) April 02, 2013
Ubiquitous Innovation, a leading mobile and web software development company, has released Branded Bridge Line 1.0, a cloud-based conference calling service targeting small and medium sized businesses and designed to put the customer's brand first. The conference calling service offers custom branding options, professional voice talent for recorded greetings and announcements, user-selected hold music and easy dialing with access code-free phone numbers. The initial release of the service provides simple and fast access. An advanced set of call management features will be available by summer 2013.
"When we started Ubiquitous Innovation, we couldn't find affordable options for conference call services that allowed us to promote our own brand rather than the brand of the conference bridge service," said Graham Street, Chief Architect and co-founder of Ubiquitous Innovation. "Branded Bridge Line was created to allow our customers to project a professional image, promote their brand and provide flexibility for the messaging delivered while gathering for a conference call."
Branded Bridge Line offers:
» Free professionally recorded greetings
» Customizable hold music or messaging
» Easy call initiation with no access codes
For more information, visit: brandedbridgeline.com
About Ubiquitous Innovation
Ubiquitous Innovation is a software development firm focused on cloud services development, web application development and mobile application development. Ubiquitous Innovation is responsible for some of the leading second screen TV apps in the emerging second screen TV market as well as for innovative products in the telecommunications market. The company is run by passionate entrepreneurs who demand efficiency and excellence in the tools required to run a business. Products under development in the Branded* product suite include Branded Voice Line, a cloud-based phone system and Branded Robo Line, a cloud based robo call service. For more information, visit ubiquitousinnovation.com.