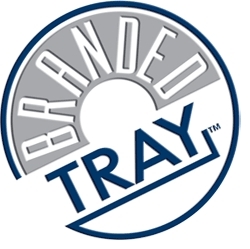 BRANDedTRAY provides innovative avenues for us to creatively connect with Wheat Thins fans and to enhance their game-time experiences
Greenwich, CT (PRWEB) September 10, 2010
This fall, Kraft Foods will sample one of its newest snacks, Wheat Thins Crunch Stix, during select NCAA college football games through a promotion using branded in-venue concession tray producer, BRANDedTRAY.
During this past NCAA® March Madness® tournament, Kraft Foods launched a sports venue sponsorship program with BRANDedTRAY's innovative concession trays with product samples, social media and coupon offers. The sponsorship was an overwhelming success, distributing 800,000 samples of Wheat Thins snacks through BRANDedTRAY to attendees at the Men's and Women's NCAA® March Madness® tournament.
As part of the overall marketing mix, BRANDedTRAY served to 'activate' and increase positive consumer awareness in a meaningful, tangible way. "The trays were a huge hit with fans…" recalls Thomas Piccolo, VP of BRANDedTRAY - "…we put the Wheat Thins brand right in their hands…."
"The Wheat Thins brand appeared on the trays in resplendent yellow, reminding fans of the brand's distinctive box, and the product's wheat-based ingredients. At each of the venues, the enhanced brand image from the sponsored trays was inescapable - in the stands, in the aisles, in the walkways and at the concessions stands. Kraft Foods was able to add to the interest and engagement by distributing product samples of two different flavors that had fans offering approval ratings to the concessions workers, and anyone else who would listen. The stage was set for Wheat Thins to 'activate' fans, now that they had recognized the brand, and tasted the product…" explains Tom Flynn, Senior VP at BRANDedTRAY.
This Fall, as part of a new product launch, Wheat Thins Crunch Stix will be promoted and distributed at select home football games at the University of Tennessee, University of Kentucky, Auburn, University of Connecticut, University of Michigan, Ohio State University, University of Texas, and UCLA. The trays will feature a "text-to-win" contest offering a trip for four (4) to the "Kraft Fight Hunger Bowl" (http://www.kraftbowl.org), a college football bowl game at AT&T Park in San Francisco on January 9, 2011.
"BRANDedTRAY provides innovative avenues for us to creatively connect with Wheat Thins fans and to enhance their game-time experiences," said Leslie Waller, Brand Manager, Wheat Thins. "We look forward to an exciting campaign to help NCAA football fans discover Wheat Thins Crunch Stix and delight them as they're cheering on their favorite teams."
"We're excited about executing another successful performance…" says Flynn. "The combination of associating sponsors with the highest levels of athletic competition, offering product sampling capabilities, and direct response options make our branded concessions trays a 'must-have' part of any sports sponsorship package…."
About BRANDedTRAY
BRANDedTRAY produces high-quality sponsored food and beverage trays provided free during concession stand purchases at sports and entertainment events in participating stadia, arenas and race tracks. BRANDedTRAY is the approved serving tray of MLB, NFL, NBA, NHL, MLS, NCAA and NASCAR.
Get more information about BRANDedTRAY and their pioneering text-to-win contest, sweepstakes, couponing and 2D barcode promotions by downloading BRANDedTRAY's media kit at: http://www.brandedtray.com/media and/or fan BRANDed on Facebook.
About Kraft Foods
Kraft Foods is building a global snacks powerhouse and an unrivaled portfolio of brands people love. With annual revenues of approximately $48 billion, the company is the world's second largest food company, making delicious products for billions of consumers in approximately 170 countries. The portfolio includes 11 iconic brands with revenues exceeding $1 billion – Oreo, Nabisco and LU biscuits; Milka and Cadbury chocolates; Trident gum; Jacobs and Maxwell House coffees; Philadelphia cream cheeses; Kraft cheeses, dinners and dressings; and Oscar Mayer meats. Approximately 70 brands generate annual revenues of more than $100 million. Kraft Foods (http://www.kraftfoodscompany.com; NYSE: KFT) is a member of the Dow Jones Industrial Average, Standard & Poor's 500, Dow Jones Sustainability Index and Ethibel Sustainability Index.
###