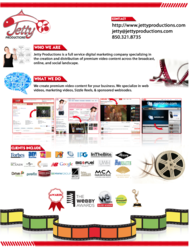 "I'm thrilled to have this caliber of a group to advise us and help broaden the scope of our offerings not only for our current clients, but also for the many brands and businesses still without a video content strategy."
Miami, FL (PRWEB) January 22, 2013
FOR IMMEDIATE RELEASE
Jetty Productions, LLC Announces New Advisory Board
Jetty Productions recently announced the formation of its new 4-member advisory board. Jetty Productions is an award-winning video content company and this is the first advisory board for the company. The board will advise Jetty in areas including branded video content, strategic partnerships, native advertising, content curation, and company growth.
Members of the newly formed advisory board represent the film & broadcast business as well as the technology industry:

D.J. Goldberg, Manager – Television, Wonderland Sound and Vision
James Gross, Co-founder, Percolate
Avi Savar, Founder and Chief Creative Officer, Big Fuel Communications
Matthew Trotta, Sales Director, BuzzFeed
Neilson Paty, Founder and Creative Director at Jetty Productions is proud to announce this board and recently said, "I'm thrilled to have this caliber of a group to advise us and help broaden the scope of our offerings not only for our current clients, but also for the many brands and businesses still without a video content strategy."
ABOUT JETTY PRODUCTIONS, LLC
Jetty Productions is a full service digital marketing company, specializing in the creation of premium video content across the broadcast, online, and social/mobile landscape. The company is widely recognized as the premiere Miami video production company, and has established itself over the years as an award-winning branded video content powerhouse. 40+ clients including Federated Media, Universal Music Group, Forbes Media, evian, Daily Candy, MKG, Tribune, and MTV Networks.