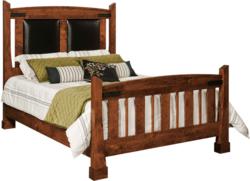 The Old West-inspired design of the Larado Bed is a perfect example of an "old meets new" design that people love.
Shipshewana, Indiana (PRWEB) July 03, 2012
Furniture-enthusiasts who have made the trek to Shipshewana, Indiana will undoubtedly be familiar with Brandenberry Amish Furniture. Known for offering original and customizable Amish furniture, Brandenberry continues to build their reputation as a high-quality solid wood furniture source with the recent debut of the Larado Bed.
The new Larado Bed is built by Northern Indiana Amish craftsmanship using regional hardwoods, a fact that Brandenberry takes pride in. These Amish craftsmen use traditional woodworking methods, allowing for a hands-on approach to construction that opens the door for customization (including the client's selection of wood species, hardware, size, color (stain, paint or dye), etc…). Ultimately, customization is a large draw for customers seeking a "one-of-a-kind" piece.
This traditional approach to construction also influences the style of the Larado Bed, which is very much rooted in traditional designs (see the classic Shaker or Mission furniture designs) but stylish enough to be considered "timeless." Sales representative Janine remarks, "The Old West-inspired design of the Larado Bed is a perfect example of an "old meets new" design that people love." The detailed beauty of this bed is evident in the leather panels, hand-hammered straps and saw-marked joints.
The new Larado bed available at Brandenberry Furniture is one of many new designs now available through Brandenberry. The Brandenberry website or their Shipshewana showroom offer additional details related to all of the new designs.
About Brandenberry Amish Furniture:
Brandenberry Furniture features furniture customcrafted in the heartland the Amish way. Many of the furniture pieces are exclusively designed and built for Brandenberry clients or the Brandenberry showroom in Shipshewana. LeRoy and Ida Weaver established their first Amish furniture store in 1989 in Shipshewana, Indiana, before opening Brandenberry Amish Furniture in 2008. They maintain two family-owned and operated businesses offering a full line of solid wood, Amish Furniture at affordable prices. In addition to providing a wide selection of home furniture, Brandenberry Amish Furniture offers a range of services, including layaway and delivery options, custom furniture design consultation, price quotes and exclusive sales.