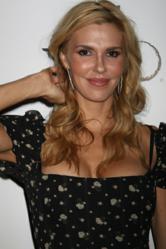 In addition to the salary information, Brandi also shared her thoughts about the other girls and her ex-husband's new love affair.
New York, NY (PRWEB) February 23, 2013
"Real Housewives of Beverly Hills" star Brandi Glanville revealed a secret about the show on the radio on Tuesday. According to a report from foxnews.com, she revealed her salary and that of her co-stars from the said program. And considering her slashing assertions, entertainment and sports news site Green Bean Buddy commented that she should control her words before they bite her back. According to Green Bean Buddy, those remarks she uttered could be used against her in the future, in court or not, by people to whom she directed them to.
Based on the report, Glanville particularly revealed she made $18,000 from the said television program last season. However, the others, she detailed, made $250,000. And fearless as she is, she also stated that her co-stars were horrible and she even used the C-word to describe them.
According to a separate report, she also made controversial comments on The Howard Stern Show on Tuesday about her ex-husband and his new married life. It related that she thinks he stays with his new wife because of money. With that statement, entertainment and sports news website Green Bean Buddy remarked that the former model seemed to have not yet completely moved on from her broken marriage.
Here's an excerpt from the said report.
"Controversial Brandi Glanville has fearlessly revealed something about her show "Real Housewives of Beverly Hills." And more than that, she also got some few choice words for her co-stars.
"According to a report on Tuesday, Brandi was a guest on The Howard Stern Show. And outspoken as she is, she revealed she made $18, 000 on her first season on the RHOBH and will make $136, 000 this year. But other girls as she said, earned $250, 000."
Moreover, GreenBeanBuddy.com shared that Brandi Glanville also just recently blasted her co-star Adrienne Maloof with some plastic surgery comments. And needless to say it said that it stirred up a conflict. With that and all the other feuds involving her brewing because of all the strong remarks she made, the site commented that it's best for her to control her words from now on. It stated that to do so will save her a lot of troubles.
Get more entertainment and sports news at GreenBeanBuddy.com.