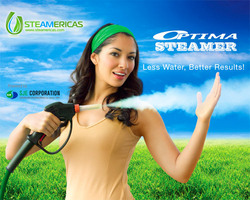 By getting corporate branding, video production and marketing materials done in one place assures consistency through all distribution channels
Torrance, CA (PRWEB) July 14, 2010
EKADOO LLC has been selected by SJE Corp. of South Korea to develop the brand design development program for the company's exclusive U.S. distributor, Steamericas, Inc. The Los Angeles-based design agency EKADOO will focus on marketing Optima Steamer, its new client's main domestic product.
On May 12-15, Optima Steamer was unveiled for the first time in the U.S. The product's display at the Las Vegas World Car Wash Expo featured a 12-by-20 foot 3D rendering of the revolutionary steam car wash machine, which stunned the audience. The crisp and detailed 3D model image was created and rendered by the agency, using cutting-edge product visualization technologies. The actual height of the Optima Steamer is only 35 inches.
"By working with EKADOO, a company like Steamericas, Inc. can showcase itself with state-of-the-art product visualization, allowing customers to get a bold new view of a truly remarkable product," said Igor Tolstocheev, creative director at EKADOO LLC. "To produce this stunning photo-quality image, developed by EKADOO, the Optima 3D model was digitally separated by 9 pieces, which were independently and simultaneously rendered using a state of the art computer farm. This resulted in an enormous image at an incredible resolution."
In addition to trade show booth design, EKADOO will provide Steamericas, Inc. with its corporate video production services and marketing materials design. These projects are currently in production.
"Behind the stunning brand design creation, EKADOO studied our market in order to showcase our product's specific selling points," says Ryan Salkaln, Director of Sales, Steamericas Inc.
"We are proud to be the agency that provides SJE with its branding program," Tolstocheev said. "By getting product visualization, creative design, video production services all in one place, our clients are assured that their corporate brand image is consistent through all distribution channels. This also makes the production development cycle a lot shorter, as it allows for simpler and more efficient project management through productive multitasking."
About EKADOO, LLC.
Based in Los Angeles, EKADOO LLC is a leading independent provider of corporate branding design services, custom web development and corporate video production. The firm maintains two offices and serves clients in both North America and Eastern Europe. For more than ten years, EKADOO has specialized in serving manufacturing, the health care and professional services industries.
For more on EKADOO, including the company's portfolio and case studies, visit company website.
About Steamericas, Inc.
Steamericas (Carson, California) is the first U.S. subsidiary of SJE Corporation (Busan, South Korea) and the distributor of commercial and industrial cleaning products, ranging from steam vapor machines to microfiber towels.
For more on Steamericas Inc., visit http://www.steamericas.com
About SJE Corporation
SJE Corp headquartered in Busan, South Korea with offices in Seoul. It was founded in 1991 and exports cleaning products to over 60 countries.
Media Contact: Igor Tolstocheev (310) 316-9068
###