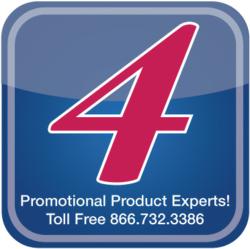 Essex, Ct (PRWEB) September 22, 2011
Red dresses were all the rage on the Red Carpet at last Sunday's Emmy Awards and according to all the style experts red is this Fall's hot color. The promotional products team at 4AllPromos likes to stay on top of the latest trends and knows red custom imprinted products can make a big impact on consumers. 4AllPromos has bulked up it's inventory to include many favorite products in red including pens, foam fingers, rally towels, sport bottles and much more. Red promotes enthusiasm, energy and confidence so plan an event around these 3 emotions to help send a powerful message to customers.
Promotional products are often used to create buzz or enthusiasm about a special event. Using a promotional product that is red or has a red logo or imprint on it can help incite even more excitement or enthusiasm about a business, charity or special event. Many sports teams use red as a signature color. Create team spirit merchandise such as foam fingers, rally towels, Pom Poms, hand fans or beach balls to create excitement at the next pep rally or homecoming. Enthusiastic fans will proudly use products supporting their favorite team. Promotional products can also be targeted to niche consumers or people interested in specific products and merchandise. For example, environmentally enthusiastic customers are likely to shop for earth friendly products including recycled tote bags , BPA free sport bottles and recycled stationary. Also, use red promotional products to remind people of special days and holidays including Valentine's Day, Christmas or American Heart Month in February. Find out what makes customer's enthusiastic.
Red can also evoke energy from customers, fans or patrons. Studies have shown that the color red can actually increase blood pressure, respiration, heart beat and pulse rate. Use promotional products to get people hyped up. Give out candy to get and make fans hyper. Give customer's something to help them play their favorite pump up mix like speakers, an MP3 player or a radio. Stress balls can help fans redirect their nervous energy. Sports bottles or travel mugs can help hold customer's favorite caffeinated beverage. Put a logo on a yoga mat or athletic apparel or gear and grab the attention of athletes.
Confidence is important when promoting a brand, campaign or an event. Use red to make a bolder impact. Dress employees in red apparel including polos, dress-shirts, hats, jackets, gloves, scarves and stock up on branded supplies such as pens, sticky notes, magnets, lanyards or other items that can be distributed to potential customers everywhere. Promotional products are a great way to network and advertise. Red apparel and products are striking and will create attention out in the workforce. Or, think outside the box and show confidence in a brand and keep things interesting by selecting a wacky or unorthodox promotional product. The more creative the product the more buzz or feedback there is likely to be received.
Using shades of red on promotional products will certainly make an impact on customers. It is important to select an effective promotional product based on the kind of result that needs to be produced. The product specialists at 4AllPromos are available to help customer choose the perfect product. For more information about 4AllPromos and promotional products visit 4AllPromos.com or call toll-free at 1-866-732-3386. Also, visit the 4AllPromos Facebook page, Twitter account and blog for more industry trends and marketing expertise.
###