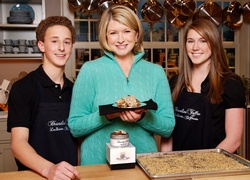 …this fantastic toffee is absolutely delicious and utterly addictive.
La Quinta, CA (PRWEB) January 17, 2009
Brandini Toffee is heading into 2009 filled with optimism and enthusiasm. The teenage entrepreneurial team of Brandon Weimer and Leah Post hope to build upon the accomplishments of 2008 that competitors twice their age would be eager to call their own. National recognition came in the form of a national television appearance with Martha Stewart, a selection as one of Oprah's 'Gift List' items for the Oprah.com website and being named 'Outstanding Chocolate' of the year with a Gold Sofi™ Award.
Martha Stewart Appearance
The year started off with a bang when producers from The Martha Stewart Show called in January. The toffee twosome were invited to New York to cook on-air with the undisputed queen of 'Good Things' herself. The February appearance and subsequent posting of the Brandini recipe garnered ongoing attention throughout the year on the MarthaStewart.com website. The acclaim from viewers and online visitors for Brandini Toffee prompted that site to re-post the tasty treat in its Best Desserts of 2008 section with the headline, "…this fantastic toffee is absolutely delicious and utterly addictive."
SoFI™ Gold
June 30th of last year, the 2008 SoFI™ winners were announced at the 54th Summer Fancy Food Show in New York. The Specialty Foods Innovation Award or SoFI™, presented by noted chef Jacques Pepin, is considered a coveted industry honor and the Brandini Kids struck gold in the category of Outstanding Chocolate 2008. "It's been an amazing year to say the least," says co-founder Brandon "Brandini" Weimer. To have been singled out among a record 2,191 entries in 32 categories, the two-year-old company started by teenagers is optimistic about the future. Weimer and Post are the youngest recipients to ever receive the specialty foods industries highest award.
The 'O' List
Brandini's growing fan club gained a surprise last minute entry when the teenagers' toffee was named to the holiday 'O' List in November. The selection of Brandini Toffee to appear on Oprah.com pushed Brandini's holiday season into high gear and brought orders to an all-time high as the company raced to send toffee across the country.
"Oprah is one of those special people with an eye for quality and a taste for the good things. We are so honored to be included on her 'O' List," said Leah Post of Brandini's selection.
What's New in 2009
Brandini will by no means rest on its laurels in 2009. Having opened a commercial kitchen in 2008 to meet demand, the youngsters have freedom to experiment and explore new product options for the year ahead. Of particular note will be the creation of a SUGAR-FREE line of toffee later this year. A company spokesman offered that there have been hundreds of inquiries and requests for an alternative product to meet the demands of the diabetic consumer.
It's an exciting time for the entrepreneurs who are also in the midst of their final year of high school.
About Brandini Toffee
Brandini Toffee was founded by Leah Post and Brandon Weimer to earn money for a student trip to Italy. Using only simple, high quality ingredients this teenage-twosome creates classic almond toffee from scratch for delivery anywhere in the U.S. Available in a variety of gift sizes (1/2 lb., 1 lb., and 2 lb. boxes,) and corporate label packaging, orders can be placed online at http://www.brandinitoffee.com and shipped to anywhere in the world. The company is located in La Quinta, California and can also be reached by calling 1-877-327-2634.
# # #