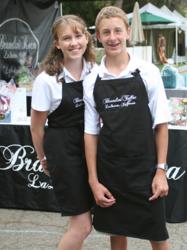 Nordstrom is known for quality products and to get our toffee popcorn recognized as the best is really exciting
Rancho Mirage, CA (PRWEB) December 12, 2011
It was 6 months ago that Nordstrom had called to inform Brandini Toffee that after a blind taste test of the top toffee popcorn brands, Brandini Toffee was selected as the clear winner. "We took your popcorn to a high level meeting yesterday. Everyone is very excited for the arrival," commented Terri Hash, buyer for Nordstrom At Home stores.
It's a story right out of a book about pursuing the American Dream and for a small business, getting products into a well respected store like Nordstrom gets Brandini Toffee a little bit closer. "Nordstrom is known for quality products and to get our toffee popcorn recognized as the best is really exciting," offers Leah Post, co-founder.
The business began October 1, 2006 when Leah Post and Brandon "Brandini" Weimer cooked their first batch of toffee to earn money for a class trip to Italy. They were just sophomors in high school when their fathers presented them with the challenge to make half the money themselves. Within 6 weeks, they sold enough toffee to family, friends and the local community to purchase tickets and spending money. They flew to Italy during the spring of 2007.
The success of their business venture left them wanting more. Enlisting the help of family and friends, Brandini Toffee was born. A year later they would win the gourmet food industry's top honor - SOFI Gold, appear on The Martha Stewart Show and the Oprah's Gift List Online. They have since appeared on Food Networks "Chef vs. City" and won California Inland Empire's "Spirit of the Entrepreneur Award", among others.
Grateful for the numerous accolades and success, Brandini Toffee also understands the importance of giving back. "Donations to charitable events are built into our business model" explains Angela Weimer, Brandon's mom. "Our toffee is either donated to event attendees or we sell our products at the events and donate all or a portion of the proceeds".
Brandon Weimer is at the University of Arizona and Leah Post attends Cal Poly San Luis Obispo. Both are in their 3rd year as business majors. Their parents run what is now a family business in Rancho Mirage, CA. where tours are given at the 5,200 sq ft. manufacturing facility and retail store.
Brandini Toffee has become a must-see destination when visiting the Palm Springs area.
###