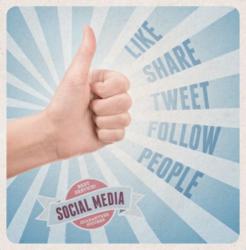 Positive mentions of the company, events or brands in the media create credibility, trust and awareness
San Francisco, CA (PRWEB) June 10, 2013
In a highly competitive market place, social media plays an important role to create brand exposure. Brandlective Communications Ltd surveyed 22 SME across America and Britain which revealed the impact social media can have on brand exposure. "Social media is a fantastic tool for gaining more insight into target markets and customer behaviour and in helps brands to position themselves within their market," explains Stacey Kehoe, at Brandlective Communications. The firms survey reveals the importance of engaging with consumers through social platforms such as Facebook, Google+, LinkedIn and Twitter.
According to a further survey by Groupon, 58% of small and medium sized businesses have plans to expand their brand on social media with the overriding aim of enhancing business activity (smallbusiness.co.uk). Stacey Kehoe reports that more and more companies recognise the importance of social media in order to support their marketing strategies. The survey reveals that businesses are even willing to reduce spend on other traditional marketing methods in order to achieve a bigger social media presence. 24% of small and medium sized firms want to engage with consumers more regularly in order or increase brand loyalty (smallbusiness.co.uk).
More Info: http://www.brandlective.com/services/
Stacey Kehoe at Brandlective Communications explains that more businesses should consider the benefits of the social media tool. "Positive mentions of the company, events or brands in the media create credibility, trust and awareness. These elements are crucial for any company in order to succeed and remain competitive," says Stacey Kehoe. Managing director at social media company TAN Media, Adam Rock, confirms this: Social media has changed the relationship between the consumer and brands. It's more about interacting with the consumer, instant access and trust rather than just offering a service or product." He adds that it is increasingly important to a good social media presence to treat consumers as individuals and not just as part of an audience (smallbusiness.co.uk).
With consistent effort and great content, a brand can build a well-respected reputation and promote the company's values, benefits and advantages (forbes.com). In order to remain competitive, Brandlective Communications therefore assist businesses and professionals to improve their brand visibility in search engines such as Google and have incorporated social media platforms. Brandlective Communications have a great track record in online brand development and reputation and are chosen by their clients to increase their perceived public image. Stacey Kehoe insists that businesses can benefit from social media. "Even though the results may not be visible straight away, which is the reason results of this marketing tool are often underestimated, it encourages consistent communication between brands and consumers which creates brand loyalty." In addition to that, online recommendations travel fast which means that more and more people will find out about a specific brand through feedback of existing customers.
Stacey Kehoe summarises: "More brand awareness and communication lead to increased sales and hence business growth."