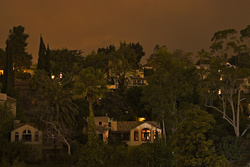 Herman is gluttonous with beauty. He's drunk on it.
West Hollywood, CA (PRWEB) April 1, 2011
John Wolf and John Saint-Denis are pleased to present a selection from Brandon Herman's photographic works spanning the past six years. Critics herald Brandon Herman as the next Dennis Hopper.
Brandon Herman is a Los Angeles-based conceptual artist whose work explores the imagination as something that is both shaped by the visual imagery we ingest, and can be used to more deeply experience the physical world and the murkiness of the human psyche.
A particular focus is 'Hollywood,' and everything to which the term refers--from the industry itself, to the content it generates--all of which Herman sees as a hotbed for development of the imagination and a poignant analogy for the way it functions.
His exhibition opens April 28th at Creato Finito Home, 601 N La Brea Ave in Los Angeles with a reception from 6-9pm and runs through May 30th.
Los Angeles art advisor and broker, John Wolf who is curating the show, represents Herman locally and is proud to see his work shine in the Creato Finito showroom, "Brandon's photography is contemporary, but it reads like a classical oil painting, it's the perfect juxtaposition to Creato's traditional design aesthetic."
Filmmaking techniques, acting exercises and elaborate role-playing are employed in Herman's markedly experiential process which is hardly apparent in the resulting, mostly photographic works, and instead exists as a heritage passed on by the artist alone, like the rumors behind the scenes on a film set.
Visual references spanning from classical painting to Youtube content are patched together to create ambiguous or unresolved narratives; film stills lacking the context of the movies from which they were plucked.
Herman graduated with a BFA in Photography and Film from the Rhode Island School of Design in 2006. His work has been shown internationally, including in a recent project with Musac Contemporary Art Museum in Leon, Spain, and published in such publications as Anthem, Artforum, Dazed & Confused, Eyemazing, Flaunt, Nylon, Soma, Tokion, V, and Vice. He is part of the Harvard Business School permanent art collection.
John Saint-Denis, creative director of Creato Finito Home co-curates the exhibition:
"Dark, heavily decorated backgrounds saturated with color. The contrast of pale, seemingly gilded faces. Hallmarks of the Great Depression films. Gone With the Wind. The Wizard of Oz." I'm standing in the Chinatown studio of artist Brandon Herman, and it's these things that come to mind as I'm staring at his large scale photographs fraught with enough visual opulence and chiaroscuro to make my eyes pop out.
He talks about Natalie Wood. Sharon Tate. Dark tales of Hollywood. And then the bright optimism of that new kid, fresh off the bus from Ohio, here in pursuit of the Hollywood Dream.
Light in the darkness, I think to myself.
'Follow the yellow brick road,' he says. Is he reading my mind? 'It's like the pursuit of the Wizard of Oz,' he goes on. 'The Hollywood Hills like the Emerald City.' Proud of myself now, my mind is churning out all kinds of Depression-era references. Richly beautiful works. A beauty in that time of despair. I see that contrast everywhere in Herman's work. Beauty and darkness. And in the beauty an excessiveness.
People will settle for the safety of 'pretty' almost always, because with the fullness of beauty comes a greater commitment to the possibility of loss. Herman is gluttonous with beauty. He's drunk on it. And in that realization also I come to understand why Hollywood is so important to him. Why he moved here from New York to be closer to it. It's what Hollywood is all about. That dream so extravagant, so alluring, and so dark and dangerous.
On the way home I stop at a yard sale in Hollywood where my eye is drawn to a large, thick piece of ruby red glass, carefully sculpted into an intricately etched and scalloped bowl. It has to weigh ten pounds, the light barely able to penetrate the sides but illuminating a spot of glowing scarlet in the lens at the bottom. Depression Glass. Perhaps my Brandon was taking those first steps back towards realizing the original ambition of Los Angeles, that through a lens, we might make a great city of golden bright light in the dark theater of the hills around us."
RSVP for the reception: RSVP(at)CREATOFINITO(dot)COM
###